Being an affiliate marketer can be a tough job at times. Knowing the top tips for affiliate marketing is key top becoming successful.
Four Methods For Driving Traffic to Your Affiliate Campaigns
The hard truth is that if you can't get targeted traffic to your affiliate links, your online business is never going to succeed. You could have the best sales copy, the best product and a state-of-the-art website… but if there is nobody seeing it, you're not going to make a cent.
Once you have all the vital components in place such as a good squeeze page, offer, sales funnel, etc. then you should dedicate the majority of your effort to driving traffic to your offer. This is vital if you want your online business to succeed.
This article will give you 4 ways of driving traffic. Focus on only 1 or 2 at a time till you master them. Many beginners make the mistake of dabbling half-heartedly in several different methods and not succeeding with any single one. Focus, focus, focus.
SEO
Search engine optimization is like Indiana Jones finding the Holy Grail. It's next to impossible to master it. Truth be told, Indy's chances were higher. That being said, you should still do your best to learn as much as you can about SEO.
The fundamentals are roughly the same. Optimize your content for the keyword and related keywords. Have a keyword optimized title, descriptions, tags, etc. Things have changed quite a bit these days.
You should write for people and not the search engines. Gone are the days of keyword stuffing. Good content will keep visitors on your site longer. This increased visitor retention will boost your rankings.
If you're buying backlinks, make sure your anchor text is widely diversified to make it all look natural. Your best course of action will be to get a guide on SEO and learn all that you can.
Forum Marketing
This is another excellent way to drive traffic to your offers or pages. The concept is simple. You will join forums related to your niche. You'll then lurk for a while so that you can pick up on the vibe of the group, understand their lingo, problems, desires, etc.
Next, you should join in the discussions and post helpful comments and information. This will get your name out there and more people will start trusting you. In your forum signature, you will have a link back to your page.
People who have read your posts may get curious and click on your link. The more posts you have on various forums, the more traffic you will get. Do not spam the forums. Just aim for a few posts in different forums daily and let the traffic snowball with time.
Article Marketing
Ho! Worry not! It's not dead yet. Things have just changed dramatically. Gone are those days when you submit a dodgy article to article directories and your article ranks. Google has gotten much smarter these days.
Now, you will need to write content that is top shelf and highly useful to the reader. You may submit these articles to sites or blogs that have high traffic. Just Google "your niche + write for us". This will bring up several sites that need content.
Assess the traffic the sites get and approach the site owners with your article and see if they'd be interested in publishing it on their page with a link back to your site.
Email Marketing
Yes… the list, the money… you've heard it all. You'll hear it again too. Why?
Because it is 100% true. Make sure you have a squeeze page to capture the emails of as many visitors as possible. This is the only way you will ever have a chance to market to them again.
Over time, the size of your list will swell and if you've been doing things right and building trust when you are ready to promote an affiliate product to them, they will trust your recommendations and make a purchase.
These are just 4 of the many ways you can drive traffic to your affiliate links. Choose one and focus all your attention on it. Once that works, outsource the menial tasks to maintain it and focus on a new traffic method. In this way, you will have visitors from many different traffic methods over time.
Five Tips to Succeeding at Affiliate Marketing
It does seem wonderful, doesn't it? The idea of sitting at home in your pajamas and watching the dollars pour into your PayPal account.
The beauty of not creating a product, handling fulfillment and customer support, etc. but still earning a juicy commission for each sale. And of course, who can deny the joy of not working for the man… and living life the way you want to.
Such happiness… but are these merely castles built on polluted air? Is it really possible to make a 5 or even 6 figure salary as an affiliate marketer? Or is this dream only reserved for a lucky few?
Here's the truth. If you're reading this, you too can do it. The only things that separate the minority who succeed from the majority who don't, are just a few simple practices and a mindset which makes all the difference.
This article will give you 5 tips that you should follow like gospel. You can bet your last dollar that the top affiliates are using all the tips below. Neglecting these tips can be perilous to your affiliate marketing quest.
Giving Up Is NOT An Option
The road to becoming a good affiliate or a top affiliate is a hard one. There will be a learning curve that you'll need to go through. You will encounter failure repeatedly and will face self-doubts often.
If you throw in the towel and quit during the hard yards, you will never see success. Success usually comes to the affiliate marketers who keep trying, keep pushing forward, keep learning from mistakes and making corrections, etc. Success is not linear.
You must have the strength to persevere till you attain success. Failure may be a setback but never an option, Keep on keeping on.
Build A Website/Blog
You should start a blog or website so that you can attract visitors and content. Even marketers who use paid advertising, usually have websites with simple squeeze pages and funnels.
You'll need to learn how to build a website or a blog, create content, etc. Yes… there is work involved. You should always purchase your own domain name. Do not use free domains or blogging sites.
Planning Is Key
You must have a plan and work the plan. Do not create a new plan every 10 minutes and hop from plan to plan. Create a detailed plan of action and follow through with it to finality. Only by doing this can you hope to achieve any success.
Many affiliate marketers get distracted. One day they're doing video marketing and the next day they're thinking of selling tee shirts on Facebook.
The eagle that chases 2 rabbits catches neither… It's a good saying. However, eagles always have the good sense to only target one prey. It's marketers who have problems staying focused.
Never Stop Learning
It's tough but that's the way it is. The online landscape is always in flux. Nothing is constant but change. What does that mean? It means you will constantly need to keep learning and adapting.
You will need to stay updated and enjoy the learning process. For example, old static sites are dropping like flies in the SERP rankings for not being mobile responsive.
So, marketers had to hurry and make their sites mobile responsive because more people are surfing the net with their smart phones these days.
Diversify When You're Ready
Never put all your eggs in one basket. When you become a successful affiliate marketer, you may look towards creating your own products.
For example, if you're making good money promoting a digital book about tinnitus, how about getting your own tinnitus eBook created?
You could make sales for yourself, recruit other affiliates to promote your product, etc. The possibilities are endless and highly interesting.
Learn to outsource the less important stuff. Focus on working on the business and not in the business. Of course, it will take time to reach this level where you can leverage.
However, once you're ready, go for it and your earnings will skyrocket. When this happens, you will become a part of the elite marketers that you once looked up to.
It may have taken you a while to get there… but you're there now. Give yourself a pat on the back and keep going.
Discover How to Choose the Right Niche for your Affiliate Campaigns

There is absolutely no doubt that choosing the right niche can make or break your affiliate marketing dream. There are millions of niches out there. Some are profitable and others are nothing more than a waste of time and effort.
On the surface, it may seem like child's play to choose a niche. Just look at what's selling well and promote it. Yes? Wrong. You will need to know the competition level of the niche. Some niches such as insurance and gambling are highly competitive.
The level of competition itself is a barrier to entry. You will need lots of time and money to carve out a piece of the pie. Most beginners will not have such resources to allocate to their marketing efforts.
So, the most important thing will be to find a niche with products that sell well, but also with a level of competition that you can manage.
There are two ways to choose a niche. You can follow your passion or you can follow the money. Many marketers will say that you should follow a niche that you're interested in and your work will be easier. The truth is that if your passion is for some obscure niche and you pursue it, you might never make a cent.
If you're interested in fitness and weight loss, you can most definitely make money. If you're interested in the mating habits of American bullfrogs, you will be hard pressed coming up with ways to make money with that.
Only choose a niche you're passionate about if there are many other people passionate about it. Furthermore, there must be a plethora of products available for you to promote to these people. Lastly, the competition must be manageable. These 3 conditions must be met.
If the niche you pick doesn't meet these conditions, look for another niche. One way to find out if the niche has many people actively involved in it will be to do some keyword research.
This is a whole different skill worth having but to get a general idea, you can go to the Google Keyword Planner and do a quick search for the niche you're interested in and see how many searches you get for that keyword and related keywords.
Do note the keyword trends. You will want a niche that is evergreen all throughout the year. One example would be the "cure diabetes" niche. All through the year, diabetes sufferers are trying to solve their problem.
Do not follow short-term trends. If you started promoting CD players, you're probably looking at a dwindling or almost dead market.
Everything seems to be going digital these days and millions of people are trying to download music and movies illegally for free. This niche is a no-no. It may seem profitable but it's not.
When assessing a niche, check if the searchers are looking to purchase products. You don't want to pursue a niche full of tire kickers who are just looking for free information. There are many such niches.
To find niches with buyers, you should go to the online marketplaces such as ClickBank, Amazon, eBay, etc. Look at the hot sellers. Ask yourself, "What problems do these products solve?"
Ideally, products that solve problems are in excellent niches. For example, a pillow that relieves back pain. Is that a hot niche? You bet. Nobody wants to be in pain and they will spend money to put an end to their problem.
Generally, there are 3 main niches that are winners. The health, wealth and relationship niche. People want to get rich, be fit and be loved. These are perennial desires. Find sub-niches within these broad niches and conquer them. That's really all there is to it.
Of course, hobbies and passions niches do well too. Yet, these could be hit or miss. You'll never go wrong with the former 3 niches. Finding niches to use for your affiliate marketing isn't rocket science.
Once you get the hang of it, the process can be interesting. Take your time and don't make a hasty decision. Find niche topics that aren't too competitive, but will still earn you a nice affiliate income after the website has been set up and you're driving traffic to it.
Discover Why Not Having an Autoresponder Will Hurt Your Affiliate Campaigns

Saying that not having an autoresponder will hurt your affiliate campaign would be an understatement. The truth of the matter is that without an autoresponder, your chances of success are slim and even if you do achieve some modicum of success, you will leaving a lot of money on the table… and no smart affiliate marketer wants that.
Besides a domain name and hosting, your autoresponder is the third most beneficial investment you could make. The money is in the list… but how do you even expect to build a list without an autoresponder?
You absolutely need one.
There are several extremely popular ones such as Aweber, GetResponse, MailChimp, InfusionSoft, etc. The name of the company is secondary. Each has unique features and which one you choose will depend on your preferences. What truly matters is that you MUST choose one.
Forget using free autoresponders. You could lose your list at any minute. Your list is an asset that you will build over time. The info products that you purchase promising you riches are not assets. They are liabilities. Your LIST is an asset. You must know the difference.
When it comes to affiliate marketing, you will be driving traffic to your squeeze page or landing page. In most cases, the visitor might not convert. With an option form that ties up to an autoresponder, you will be able to stay in contact with the visitor should they choose to opt in.
At this stage, you're still a stranger… and like you were taught from young, don't trust strangers. The autoresponder will allow you to have a sequence of messages that will be sent out to your list over time.
As the subscriber sees your name over and over again, and they read your content and helpful advice, you will build trust, and in some cases, you may even become friends with your list members. The next time you promote something to your list; they will trust you and be more ready to purchase what you're offering.
As an affiliate marketer, you should give serious consideration to building your list. Not tomorrow or the day after, but now.
Many beginners worry about the technical details of setting up a campaign and creating forms, etc. Most of this can be easily outsourced at very inexpensive prices.
There are people on Fiverr who will build a squeeze page for you that is integrated with your autoresponder campaign.
You cannot outsource nor do anything if you don't have an autoresponder. It's true that initially, the autoresponder will be an ongoing cost.
Your list will be small, and the profits may not cover the cost of running the autoresponder. However, you must think long term.
Over time, your list will grow exponentially. As the numbers swell, you will definitely be able to make enough sales to cover the cost of an autoresponder.
It goes without saying that for people to join your list, you'll need an enticing free offer to hook them and reel them in. Once they sign up, your autoresponder will automatically deliver the free gift. As the days pass, the autoresponder will automatically send out the emails that you have uploaded in the sequence.
It's as if you are staying in constant contact with your list even though it's all being done on autopilot. Isn't that just beautiful?
If you have emails that promote products in your sequence, over time, you will notice that you're making sales daily. This is what is known as passive income. You are reaping the rewards from effort expended only once.
The only way you can achieve this is with an autoresponder. Research all the leading autoresponder companies and see which one fits in with your needs. Some offer the first month free or a $1 first month trial just to help you out. It doesn't get any better. Get an autoresponder. Your success in this business depends on it.
Do You Need a Website for Affiliate Marketing?

The thought of setting up a website often strikes fear into the heart of many beginner marketers. In fact, many prefer to do affiliate marketing without setting up a website. Their plan is to direct traffic directly to their affiliate link which will then lead to the product's sales page.
Very often, this method fails because most visitors do not convert to buyers on the first visit. Once they leave, the affiliate loses the chance to contact them again because he/she didn't set up a squeeze page to capture their email or a website that provided the visitor value.
In order to make money as an affiliate marketer, you do need a website. Is it crucial? It depends on what your marketing style is. For the most part, yes… it is crucial. Ideally, even a simple website with a squeeze page, confirmation page and a sales funnel are sufficient. You can add the bells and whistles later on.
You might be thinking of setting up a free blog on WordPress.com or Blogger.com. However, it would be better to purchase your own domain name and hosting. There are some small expenses involved but these are investments that will pay dividends many times over in the future.
So, why should you create your own website?
It does seem easier to direct traffic to your affiliate link. One reason is that this style of marketing is getting more and more difficult to do. You can't use Google Adwords to direct traffic to an affiliate link. Many marketers have lost their Adwords account due to this.
Even YouTube videos insist that your link lead to your site and not be an affiliate link. So, even a simple link direction is becoming difficult.
However, this shouldn't be your reason for setting up a site.
You have immense power over your affiliate marketing when you have your own web property. You can create content and target long tail keywords. You can create squeeze pages to capture visitor emails. You can even purchase PLR products and sell them as your own products.
The possibilities are much more varied when you have your own site. The more possibilities you have, the more monetization opportunities will be available to you. This is crucial to building a strong online income.
There are affiliate marketers with hundreds of websites that they have built over time or outsourced to people to build for them. An affiliate marketer who promotes products to people he or she has built a relationship with is much more likely to make sales.
The best affiliates have a very good rapport with their subscribers. They provide information, useful tips, content, videos, etc. Guess where most of these content is hosted on?
Yup… it's on their blog or website. Without a website, you will be severely limited. Of course, you could write long emails… but it would all seem more attractive and professional on your own website.
You could use attractive graphics, videos and of course, sprinkle your post with links to your affiliate products.
By now, you should be able to see the benefits of having a website. Set one up on your own domain. It's ideal to own your own domain. If you use a free one, you might lose all your hard work in the blink of an eye.
Many marketers who have built their business on other people's web properties have seen all their efforts go up in smoke overnight when the site they were depending on suddenly deleted their content or the domain was not renewed.
It's your business. You must control it. Create your own website with your own domain and your own hosting. Of course, the autoresponder… will be your own too. This is the best way to build a business that you can be proud to call your own.
If You're an Affiliate Marketer, You NEED these Tools!

There is a proverb that goes, "A bad workman always quarrels with his tools." Why he does that is anyone's guess… maybe he is hot-tempered or maybe his tools are argumentative. Whatever the case, tools are crucial for both cantankerous workmen and SUCCESSFUL affiliate marketers.
Have you heard of the super affiliate who uses free hosting and free autoresponders? No? You haven't? Don't worry… no one else has either.
Many beginner affiliate marketers try to skimp on costs and make the mistake of trying to use free alternatives rather than paid services. Any saved costs are then squandered on some get a rich quick system that never delivers on its promises.
As an affiliate marketer, it is of paramount importance that you understand that this is a business and all businesses have fixed and/or variable costs. There is no getting away from this fact.
You will need to spend some money in order to make much more.
Being penny wise pound foolish will not only sabotage your efforts but also impede your progress. To be a successful affiliate marketer, 3 tools are crucial. In fact, you could almost say that they are the cornerstones of your business. Without them, it is almost certain that you'll fail.
The first tool you'll need is your own domain name. The operative word here is "your own"… Ignore the fact that that's 2 words. You absolutely should not build your business on someone else's web property.
Yes, you may have to spend a few dollars buying a domain, but at least you will know that you have control over it.
Many marketers spent a lot of time and money building Squidoo pages a few years ago. All of a sudden, Squidoo, changed its policies and these marketers found that their earning dried up overnight.
You will always be subjected to the whims and fancies of some other person/s decisions if you don't own your own domain name.  Your content may be deleted, your pages may have ads for Viagra, etc. There is a price to pay for free domains. It's just not cash.

The second tool you'll need is hosting. Web hosting is extremely affordable. Companies such as Hostgator, Arvixe, Dreamhost and many more provide plans that most beginner marketers can afford. There really is no excuse to not get paid hosting.

Sure… you could opt for free hosting. Just like choosing a free domain, you'll once again have no control over your business. Free web hosting usually comes with a ton of unrelated ads that will appear on your site.

Choose paid hosting. You can also host unlimited domains on the same account for one low monthly price.
The third tool you will need is an autoresponder. You may have heard the saying, "The money is in the list" repeated ad nauseam.

Yet, many beginners try to save money by not getting one. This is understandable since an autoresponder is an ongoing cost. However, it would be myopic to not build a list because of this.
Initially, the autoresponder may be costing more than it makes.
However, with time as you build your list and your subscribers swell in number from hundreds to thousands, the list will pay for itself. You'll be able to develop a relationship with many people through email.

You can provide them with free, useful content so they start to trust you. This will reap rewards when you promote something they will find helpful. You'll get sales and earn commissions that far exceed the cost of your autoresponder.

Besides these 3 tools, there are several other tools such as keyword tools, rank checking tools, spy tools, etc. However, these tools are nowhere near as important as those mentioned in this article.
If you're a serious affiliate marketer who actually plans on making money be sure to grab a domain, hosting plan, and an autoresponder to make your business easier and increase its chances of success.
Is it Better to Promote Digital or Physical Products?

This is a very common question that thousands of beginners to affiliate marketing scratch their heads over. What type of products should I choose? There is so much choice and they all look so good. So what should I do?
The doubts and questions are a good sign. It shows that you're actually thinking and not making hasty decisions. The hard fact is that time and money are limited resources.
As an affiliate marketer who is just starting, you probably will not have much of either, to begin with. So, you will want to choose the best possible product for you to maximize your profits.
But how do you know which is right for you?
In order to do that, we'll need to examine the pros and cons of both digital and physical products. Once you analyze them well, you will be able to make your decision.
Do note that there is nothing stopping you from choosing to promote a mix of both. This is affiliate marketing, not vegetarianism. Neither type of product is mutually exclusive.
The smart marketer will try promoting a mix of both products and see which works well for him or her and go all out for it when they know what's working.
Digital products are either information and service related products that can be found online. They could be eBooks, software, videos, and audios. Upon purchase, the customer will have immediate access to the product/s.
Some of the most popular digital marketplaces are ClickBank, Tradebit and JVZoo.
The pros of digital products are that it's easy to set up an affiliate account and start your promotional efforts. The customers will receive the products immediately and the best part about digital products is the high commission rates.
Since there is no shipping involved, the product creator has less cost and is able to offer commission percentages of 50% to 75%. These are very attractive.
It takes just as much effort to promote a high paying product than a low paying one.
There are a few cons to digital products though. Firstly, there is a higher refund rate. There are many freebie seekers who have no qualms about purchasing and downloading the product only to ask for a refund a few minutes later.
Some digital product vendors are also unreliable and may disappear or take their sales page offline at any moment. Digital products usually do not easily convert browsers into buyers.
You will need to build a list and a relationship with your list. After that, you may repeat the offer to them at intervals and over time they may be persuaded to buy. It is a longer process.
Physical products are the kind of products that you can buy at Wal-Mart or another retailer. These products have their own set of pros and cons.
The pros with physical products are that people are much more ready to purchase them since they are tangible and generally, seem more reputable than digital products.
There is also much more variety with physical products and the refunds or returns are much lower because of the hassle of sending the item back, etc. Most people are too lazy to go through the process.
The commissions are greater when you promote higher ticket items. Unlike digital products with a fixed price and fixed commission, the commission you earn from promoting a physical product may vary. If the buyer picks a more expensive product in the marketplace, you get more commission.
The cons of physical products are that they have lower commission percentages (usually 5% to 10%). It's also more difficult to promote these products without a website and it takes longer to receive payment from the vendors.
At the end of the day, you will need to decide what is best for you and suits your needs. As long as you have the fundamentals in place such as pre-selling skills, building a list, basic website setup, etc. you will fare well with either type of product.
Learn How to Stay Organized and Efficient with Your Affiliate Marketing

The author, A.A. Milne once said, "Organization is what you do before you do something so that when you do it, it's not all mixed up."
This is extremely true for any business. By being organized, you will reduce the stress and clutter that you encounter. This will allow you to be unencumbered and stay focused on your marketing efforts instead of wasting time to sort through a mess.
As you progress with your marketing efforts, you will find yourself collecting more and more usernames, passwords, websites, affiliate links, autoresponder campaigns, etc. There will be a ton of things to keep up with. NEVER ever believe that you can store it all in your memory.
Most people have difficulty recalling what they ate 2 days ago. So, your memory might fail you when you need it.
Staying organized will keep you on track. You'd be surprised at how many marketers have desktop icons smothering their screen and they spend a good deal of time looking for the different folders, images, links, etc.
All these can be a drain on your energy and also disrupt the flow of your thought process. You must have a system where it's all neatly organized.
One of the best ways to do this is by using Excel spreadsheets. Have one spreadsheet for your usernames and passwords for all the different accounts that you have. In this way, if you ever forget, you will have a reference to look at.
If you do not have Excel, you can use a free program called "Calc". You'll need to download it first.
Use spreadsheets to keep track of your tasks, progress, affiliate links, etc. Whatever needs to be recorded down should be in your Excel files.
Take all the outdated info products and reference guides that are littering your hard drive and put them in one folder. You can sort these out by topics in subfolders within the main folder. One of the keys to staying organized is to have a main folder and subfolders.
For example, if you have 3 websites about weight loss, diabetes and hair loss, you should create one folder and name it "My Sites"… within the "My Sites" folders, you will have a weight loss subfolder and a diabetes subfolder and so on.
In this way, your desktop will not be littered with hundreds of folders. You want to minimize the virtual clutter.
Sometimes, good old pen and paper are fantastic too. When brainstorming ideas, you can quickly jot them down in a notebook which you will keep by your computer. Or you may have a written to-do list stuck on the whiteboard next to your computer. Different people have different preferences.
The key to good organization is that you must know exactly where everything is when you need them. Time shouldn't be wasted wondering where a particular item you need is or what your next task should be.
Have a list that will tell you what tasks you need to monitor on an ongoing basis. If you outsource certain jobs, you will need to know if the work has been delivered. Don't forget about it or worse, pay another freelancer to do the same work again.
These are just some steps you can take to ensure you are organized when it comes to affiliate marketing. For every minute spent organizing, an hour is earned. Remember that and do your best to stay organized all the time.
Should You Use Paid or Free Traffic for Your Affiliate Marketing?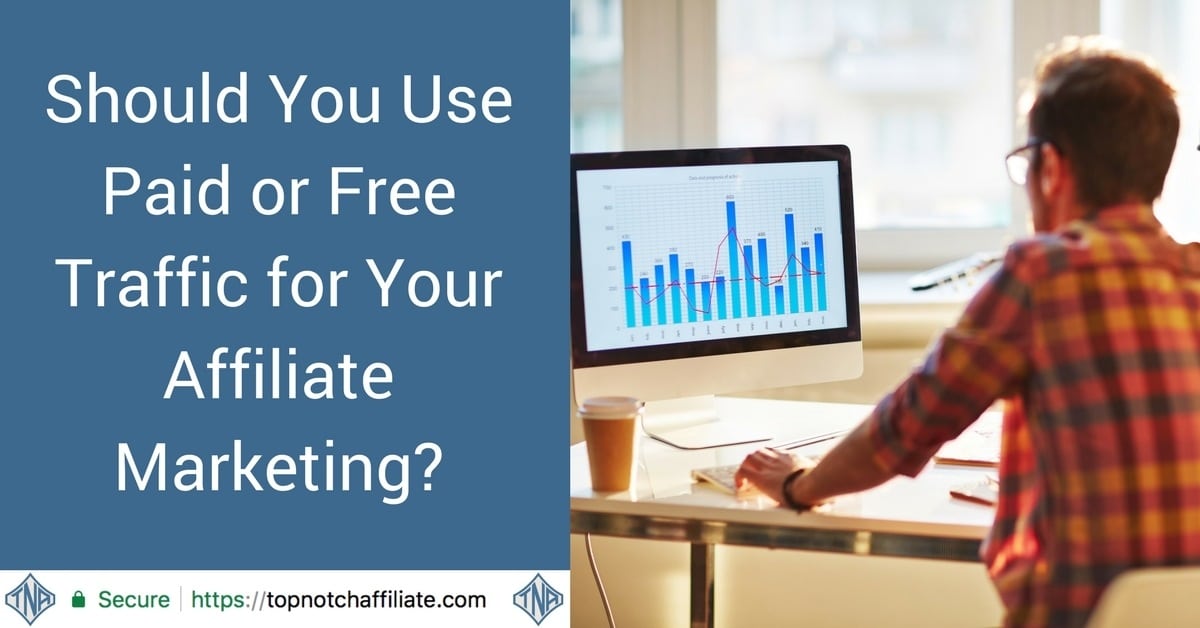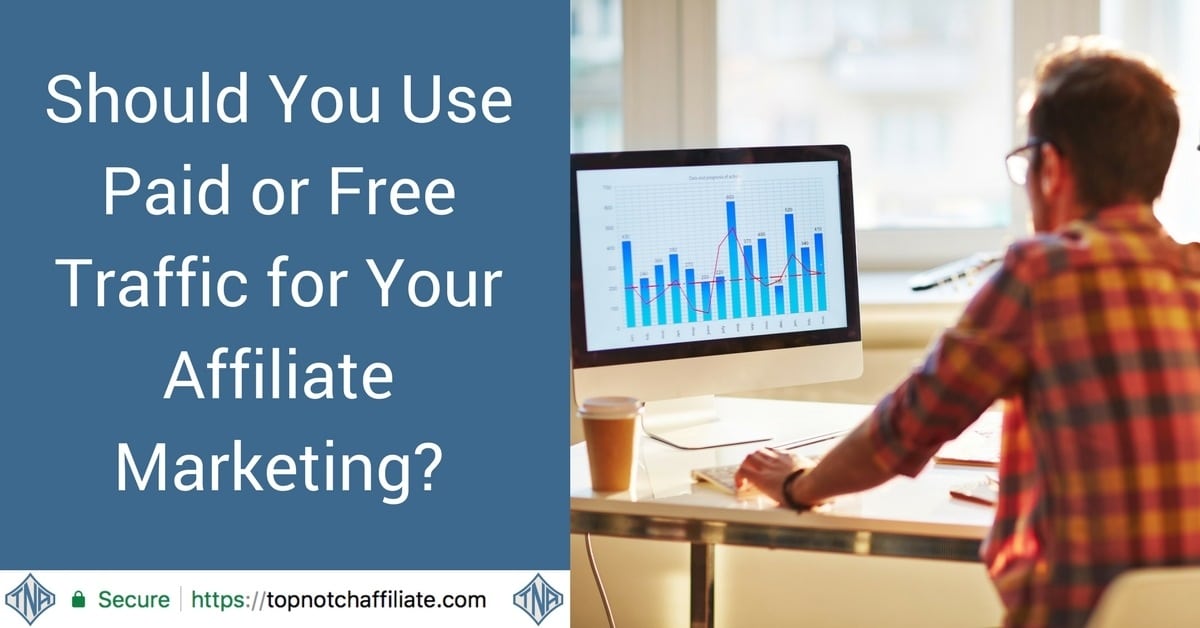 You know what they say, "Traffic is the lifeblood of your internet business". Actually, this is true for any business. With a brick and mortar store, the mantra is "Location, location, location!"
In the real world, positioning your store in a location with heavy human traffic is one of the best ways of boosting sales. Online, however, you can't do that. You will actively need to shuttle people to your site. They will NOT come automatically.
There are two ways of driving traffic to your site or blog or whatever page/product you're promoting. There is a free option and the paid option. Both have their advantages and disadvantages.
Initially, when most affiliate marketers are starting out they will go the free route. This is due to a limited budget and financial restraints. Don't let that discourage you. Free methods are highly effective too and will snowball with time to drive massive traffic.
You will need some knowledge of search engine optimization. You will target long tail keywords with less competition. These will usually have a lesser number of searches but by targeting many different long tail keywords, you will build up a greater volume of searches.
Blog posting, forum marketing, and guest posting are all highly effective methods of driving free traffic. Of course, you will have to spend some time becoming a member of forums related to your niche.
Then by sharing quality information, you will build trust with many other members. You will add a link to your site in your signature on the forum. People who read your post will be curious about you and click on your link and end up on your site.
The process may seem convoluted and strange. Yet, it works very well. Many marketers only focus on forum marketing and do very well from it.
The downside with free traffic methods is that they will require time and effort… and also take time to show results. This is par for the course. What really matters is that you keep plugging away and not stop just because the results are not coming fast enough.
Paid traffic like the name implies, requires you to pay for it. If done well, it can be highly profitable and drive surges of traffic to your page or offer. If done wrong, you will lose quite a bit of money.
The hard truth is that most marketers fail miserably with paid traffic. They assume that all they need to do is pay and the traffic will convert on its own. The reality is that you will need to track your spending, increase your conversions, do split testing, know your ROI, etc.
There are a lot of details and the devil is in all of them. Most beginners have glazed eyes when they read about tracking and analysis. They try to skip it because it seems complicated. It's not. You just need to get the hang of it.
Before even starting on paid advertising, you must learn all you can about it. Even that is no guarantee that you won't lose money… but at least you won't be fumbling without knowing what your options are.
Paid traffic is highly lucrative and delivers results much faster than free traffic. Once you do have some funds to spare, you should learn about pay per click traffic and give it a try.
You may make some mistakes but by correcting them and moving forward, you will master this method of traffic.
The best advice any beginner affiliate marketer can follow as far as traffic generation goes is to start with free techniques first. Once you are making commissions and sales with your free methods, put some money aside to experiment with paid strategies.
Over time, you will have more experience and knowledge to scale up and you'll become highly efficient at driving traffic with both methods.
Unleash the Power of Video Marketing to Promote Affiliate Products

Video marketing has taken the online marketing world by storm. There is no denying it. The popularity of video is only going to increase. YouTube has more searches and users than Twitter or Facebook. In fact, YouTube is the second biggest search engine after Google.
As an affiliate marketer, you absolutely cannot afford to neglect video as a method of traffic generation. Many beginner marketers are reluctant to dip their feet in video marketing because they are worried that it's complicated or that they might get in front of the camera.
These fears are unfounded. Video marketing is pretty straightforward and much less complicated than other marketing methods once you know the process.
As for getting in front of the camera, it's really no big deal… but if it makes you balk, there are many other alternatives where you will not need to get in front of the camera.
Videos will allow you to tap into a huge source of traffic that you may not otherwise expose your site too if you were just submitting articles or joining forums. 
The world we live in is fast paced and people have very short attention spans. Generally, many people prefer watching a video than spending time reading an article.

If you're too intimidated to create a video, you can always use screen capture software such as Camtasia and just speak in the background. Nobody will ever see your face. Another option may be to use a PowerPoint presentation as a video.

Camtasia is slightly expensive software. If your budget is tight, you may look for a free version known as CamStudio. However, lately, many people have reported that the free version of CamStudio has been hacked and contains many viruses and malware. So, it's best to be cautious.

There are several other much more affordable video makings software such as VideoMakerFX, Explaindio, and EasySketchPro. Look through them and decide what is best for you.
Another option is Jing. You can create videos with it and use Windows Movie Maker to edit the videos as you see fit.

You will need to know some basic SEO optimization for videos. Ideally, you should get a guide on video marketing to show you the finer points. The basics are, using your keyword as your video file name, using your keyword in the video title and description, choosing the right tags, etc.

Next, you'll need to upload your video to popular video sharing sites such as YouTube, Vimeo, DailyMotion, etc. The more places you get your video into, the more people you will reach.

Sometimes, you may be a busy affiliate marketer with no time to create videos or your forte may be in writing content instead of video production.
At times like these, you can always go to freelancer sites such as Fiverr, Elance or the Warrior Forum- Warriors for Hire section to look for people who will make videos for you.

By outsourcing your video production, you will free up time for yourself to focus on other important parts of your business. If you have a limited budget, then you'll need to make the videos yourself.

Even if you make one video a day, over time, these will accumulate and you will see an increase in traffic to your site. Whatever the case may be, you must include video marketing as one of the traffic generation tools in your arsenal. It is one of the most cost-effective methods of traffic generation and the traffic it sends is often highly targeted. It doesn't get any better.
Additional Tools You Might Want To Consider For Your Affiliate Marketing Success

The three essential things that every affiliate marketer will need will be their own domain name, paid hosting and an autoresponder. These are the crucial basics. There shouldn't be any negotiation here and use free options is definitely not a good idea.
Most of the free articles and free eBooks you find online about affiliate marketing make the process look easy, painless and cheap. Bold claims such as "push button profits" and "Earn a 4 Figure income with 10 Minutes of Work a Day" are very common.
The hard truth is that affiliate marketing is a business. Just like any business, it will require time, money, effort… lots of effort and will grow over time. There is no such thing as push button profits. You could spend your life looking for the button and never find it.
To speed up your affiliate marketing journey, there are a few tools that are indispensable. Buying these tools will not be enough. You will also need to learn how to use them to get the best benefits from them.
A Good WordPress Theme
For starters, you need a good WordPress theme. If you're not using WordPress, you really should start. Google seems to rank WordPress sites more favorably. Furthermore, you will be able to build a site much faster. While WordPress is free… the best themes are not.
You will need to find a theme that is mobile responsive and looks attractive. A good theme will be pleasing to the eye, load up fast and be a breeze to work with.
Keyword Research Tool
In order to be a successful affiliate marketer, you absolutely must know how to do keyword research. Thankfully, there are very reliable programs that will collect and collate a huge list of keywords within minutes.
Software such as Long Tail Pro and Keyword Samurai are two of the top choices preferred by many marketers. These tools not only give you a huge list of searched for keywords, but they also show the competition scores.
Why is this so important? When you know the competition score, you can target keywords that are less competitive or have no competition. This is very important because it will save you a lot of time and effort.
You could spend years and still not be able to rank for a keyword such as "weight loss" which has immense competition. Focus on many long tail keywords and build your traffic from there. To get these keywords, you need to get a keyword tool.
A Rank Tracking Software
There are both free and paid options for this one. Basically, what a rank checker does is that it checks where your site ranks, for the keywords you're targeting. This can be a real time saver.
Instead of spending hours scanning the search results to see where your site is, now you'll know at one glance from a single interface. That's fantastic.
There are many other tools such as bot blockers, SEO plugins, etc.
As you progress in your affiliate marketing journey, you will know which ones you need to simplify your business. That's what tools are for.
To make your life easier and save you time so that you can focus on the more important aspects of your business. Use tools whenever you can because time is your most precious resource.
Common Mistakes That Most Marketers Make Which Dooms Them to Failure

Every single day hundreds of newbies decide to start on the affiliate marketing journey. The sad fact is that over 95% of them will fail miserably and quite. The road to successful affiliate marketing is littered with the carcasses of the thousands who have tried and failed.
This may seem grim and bleak… but it is a wakeup call. Too many newbies believe that with barely any effort, they will be able to make a whopping five-figure income online within a month or two. They are lulled into a sense of complacency and are deluded into believing the promise of easy money.
The truth is that success with affiliate marketing is just like success in any other endeavor. The effort, sweat, pain, sacrifice, money, time, etc. are required.
You will be required to give up a lot, to learn more than you ever dreamed of, to struggle with paltry results for a while, to experience the pain of defeat many, many times… Do you have what it takes?
You do? Really?… Good. That's excellent. That brings us to the first most common mistake.
Quitting Too Soon
This one mistake alone separates the winners from the losers. You only lose when you quit… because quitting is an act of finality. Where else can you go from there? What other hope is there when you quit?
The affiliates who succeed are the ones who quietly, doggedly stay on course even when the results are measly and the outlook is bleak. This the longest part of the journey… and it's a test. Once you pass it, you will be the affiliate that makes big money. It will take a while to get there… so don't give up.
Being Too Lazy To Learn
This affects the best of us. In the beginning, everyone says that they will do whatever it takes. Later on, when they realize that they might have to learn something new, such as using an autoresponder, they slowly try to escape by not trying to build a list.
The reason for this is that effort has to be expended to learn what needs to be learned. You have no choice. Failure to learn what you need to learn will cripple your business and hamper your progress.
Take the time to learn what you need to do. If you're really not keen to learn, you should outsource the job to someone who knows how to do it.
Quitting Their Day Job Too Soon
Many newbies hate their day job and they get online to earn a living because they can't stand their day job. While this may be a good driving force, you should never quit your day job while starting an online business.
It will take time for your internet business to gain momentum. By then, the bills will pile up, you will be stressed out and the whole vibe you give off will be one of desperation.
Stay on your job till you're making a consistent online income. If you reach the stage where your income is consistent, you may switch to a part-time job or become a freelancer online.
Once you are able to generate a steady income online that is equal to what you are earning at your day job or exceeds it… guess what?
You are ready to quit. Once again, this is a general guideline. At the end of the day, it will be your decision when you should quit. The rule is… you do not quit before you have made any money online.
These are some of the most common mistakes that beginners make. They are terrible mistakes that often doom the chances of success. Avoid these pitfalls, stay focused and never give up.
Going From Beginner to Super Affiliate: The Tips You MUST Know (Part 1)

Most beginners look at the super affiliates in awe. The super affiliates making 5 and 6 figure sums seem to be in another league and it's as if they are walking on imported air. The beginner who is just starting out may feel intimidated.
How will I ever catch up with them? They must be way smarter than me? They're earning 5 figures a month and I can barely earn 5 cents!
The dream is to be like them… but the reality is telling you that you never will. So what do you do?
The first thing you do is to stop comparing yourself to them. If you're busier worrying about them, you're not focusing on you… and right now you need to work on you.
Every super affiliate was once a beginner who probably didn't know a domain from a doughnut. They worked long and hard to build the skill sets and strategies required to take them to the level they are at. This is a learning process.
Your first goal will be to learn all that you can… but your learning must be focused on. This is a pitfall for most beginners. They try to be a Jack of all trades and end up a master of none.
Since you want to be an affiliate marketer, you'll need to know how to source for products, pick a profitable niche, set up a landing page, build a list, build a relationship with that list, drive traffic, etc.
There are many skills to learn and you must focus on these. These are the skills you need. Do not suddenly run off and try to learn how to sell on eBay or decide to write books for Kindle.
These are unrelated to what you're trying to do as an affiliate marketer.
These will sidetrack you. Time is limited and you must focus on one art. One of the best ones to choose is affiliate marketing… and yes, it is an art. A very profitable one too.
A rough guide of the process looks like this.
Learn to pick a profitable niche. This will make or break you
Do keyword research and find the best keywords that you can compete for
Target the long tail keywords
Set up a website with a landing page to capture email addresses
Drive traffic to your landing page with a few traffic generation methods
Build a sales funnel so that after opting in, the subscriber is taken to an offer
Have a sequence of emails to offer value, build trust and promote offers
This is the process simplified. It may look simple… but it is not easy!
Almost every affiliate started off with this model and made tweaks along the way to boost their profits. As long as you follow this model, you won't go wrong.
The devil is in the details. Only by testing and making adjustments to your process will you discover what works… and once you know what works, it's just a matter of replicating and scaling the process.
This will take time, but with time, your profits will snowball and your commissions will start to hit the 4 figure and 5 figure marks. Keep persisting in your efforts and you will hit the 6 figure mark too.
It may seem like there is a lot to learn… and there is. You need to take things one step at a time. If you need to learn how to pick a niche, spend enough time learning how to pick a niche so that you're an expert at it.
Every step has to be executed successfully for your campaign to yield success. One slip up in the process can sabotage most efforts. So, you will need to learn each step in detail.
We'll discuss how you can do that in Part 2…
Going From Beginner to Super Affiliate: The Tips You MUST Know (Part 2)

In the earlier article, we established that in order to progress as an affiliate, you would need to learn every step thoroughly before proceeding to the next step.
This is true for any art whether it's dancing, swimming or karate. You must master the fundamentals before moving on. One step leads to another.
How do you learn what you need to learn? Simple… Google and YouTube are your best friends. If you need to learn about niche research, Google search "niche research tutorials" and do the same thing on YouTube. 1 week of assiduous study will make you an expert on the topic.
You can also purchase a guide that's about niche research. When it comes to purchasing info products in the internet marketing niche, it is best to find topic-specific products rather than the untested theory about making money.
For example, a guide on niche research only is topic specific. This is good.
A guide that shows you how to make $1,674 in 10 minutes is rubbish. The niche research mentioned will be an afterthought and will not be covered in-depth. Therefore, make your purchasing decisions wisely.
This method of learning should be applied to every step until you are very knowledgeable about the process. What do you do next?
You take ACTION! This is key. All the theory in the world will not help you if you do not take action. Too many beginners try to stuff their heads with too much theory until they suffer from information overload. Paralysis by analysis soon follows.
Avoid this at all costs. Once you have learned all you need to learn about niche research, go out there and find 1 or 2 niches that you would like to get into. Put your knowledge to use.
Then move on to the next step… and take action… and so on and so forth. This is the surest path to success.
Another tip… Do NOT bite off more than you can chew. Choosing 1 to 3 profitable niches is ok. Choosing 50 is pointless and you're overdoing it. The same applies to affiliate products and programs. Do not choose so many that you lose count of what you are promoting.
Focus your effort on a basket of products. Maybe 4 to 7 products in the beginning. Stick to one or 2 affiliate networks. Do your best with these and you will have more time to devote to each product.
Do not spread yourself too thin. It may seem like you're doing a lot. In reality, you will actually be slowing down your progress because you will not be giving your best for each product.
Learn to drive traffic from forums, videos, articles, etc. Focus on the free methods when you are starting out. Traffic generation should be done on a daily basis. The efforts will accumulate over time and the traffic will build up.
Try and master one or two highly effective ways of driving traffic and scale it up till you are able to make commissions from the traffic. Do NOT get into paid traffic if you can't get the hang of free traffic.
Free traffic to your landing page will give you an idea about how well your page and products convert. This information is priceless and will help you when you do start using paid traffic.
Monitor your stats, traffic, sales, commissions, time spent working, etc. There is a value on your time. Never forget that. Initially, you will be working for free. However, with time, you must be able to earn enough to justify you slaving away in front of the computer daily.
If you follow all the steps mentioned in this article, you will be way ahead of the majority of other affiliate marketers who are struggling. This is a business. Always remember that. It is not a lucky draw or sweepstakes. This takes effort, money and time. As long as you remember that, you will do well.
Should I Create My Own Products or Just Be An Affiliate Marketer?

This is a very common question but there is no right or wrong answer to this. It will depend on your preferences and where you wish to take your business. There are pros and cons to both product creation and affiliate marketing.
The best affiliates usually do a mix of both. They not only promote others' products but they also create their own and get others to promote them. Doing this multiplies their income. Diversification is also good business sense.
Let's look at some of the advantages of both systems. Once you have an idea of what both are about, you will be better informed to make your own decision.
Affiliate Marketing Is Simple
This simplicity is the most attractive point about affiliate marketing. Someone else does all the work creating and delivering the product but you take a chunk of the sales through your commissions. Of course, you will need to drive traffic that converts, but that is not half as much work as creating the product.
No Customer Interaction
There is a saying, "Hell is other people". This can be very true when dealing with difficult and unreasonable customers. As an affiliate, you will not need to deal with all these cantankerous folks. That's the job of the vendor.  There is minimal accountability on your end.
Less Tech Skills Are Needed
A certain amount of tech skills are required to set up sales pages, payment processing, delivering the product, etc.
As an affiliate, all you will need is an affiliate link. If the visitor buys, you automatically get your commission.
All you need to do is focus on traffic generation methods. That's just one area of expertise and if you devote most of your time to it, you will get very good at it.
Now let's look at why product creation is worth considering despite the disadvantages mentioned above.
You Have A Chance To Brand Yourself
Unlike an affiliate who is a faceless cog in the system, you are a product creator. You have the ability to brand yourself and your products. If your products are good, you will have a loyal group of customers.
Generally, product creators get more respect and recognition while affiliates are not trusted because they have a vested interest. The laws even state that affiliates need to have an affiliate disclaimer on their site.
You Make Money No Matter What
There are quite a few dodgy affiliate networks that try to con the affiliates out of their hard earned sales. The can easily do this by suddenly changing the affiliate program technology. As a product owner, you will receive all payments. Nobody can shortchange you.
You're Building Your Own Business
All affiliates help to build the product owners' lists. In most cases, this is a buyers list which is infinitely more valuable than a general list of freebie seekers. Of course, affiliates too can build a list by directing their traffic to a squeeze page first.
However, the visitors will then go on to join the product creator's list if they buy the product. So, the product creator is building a valuable buyer list from the efforts of the affiliates.
You Can Build A Backend And Residual Income
Buyers who have purchased from you will be much more likely to buy again. As a product creator, you can always create new products that will appeal to your buyers and you will be able to generate sales over and over. There is no limit to what you can achieve.
These are some of the pros and cons of both methods. Do not look at them as mutually exclusive. You can get your feet wet by starting off with affiliate marketing. Once you are a successful affiliate marketer, you can see what products are selling well and try to replicate them.
You can then direct traffic to your own offers and make 100% of the sales. You'll also be able to recruit other affiliates. In this way, not only will you have income as an affiliate but you will also be making money selling your own products. This is fantastic. Give both a try.
3 Techniques to Drive Traffic to Your Affiliate Marketing Campaigns

The most important skill that any online marketer should have regardless if they are an affiliate or a product creator, is the ability to drive traffic to their product or website. For affiliates, this is even more important.
Affiliate marketers drive traffic to their landing pages or the affiliate products that they are promoting. They do not need to create products, sales pages or handle customer support. Driving traffic is their main job. Not any old traffic, but targeted traffic.
If you wish to be an affiliate marketer, you absolutely must master traffic generation. You don't need to know all of them but you must know at least a few to generate a steady amount of traffic. The more traffic you have, the more conversions you can expect. It is a numbers game.
One of the best methods of driving traffic will be forum marketing. This is highly targeted traffic. All you need to do is join the different forums related to your niche. If you're in the hydroponics niche, you should join the hydroponics forums and observe what is going on there.
Learn what problems the people in the forum have. Then try and be as helpful as possible. The key is adding value. The more value you add, the better a member you will be and people will be glad to have you around. Next, you should have a catchy signature with a link back to your landing page.
Do not call any attention to it. If you contribute enough value, people will automatically be curious to see who you are and click on your link. This is human nature. If your offer on the landing page is good, you will have many options.
Another excellent traffic generation method is Facebook groups. These are similar to forums. The only difference is that it's on Facebook. The same rules apply. Adding value is the main one. After a while, you can contact the Facebook group admin and ask if they'd allow you to post a link to your landing page. It would be a good idea to customize the landing page to make it look exclusive to the group.
In this way, the group admin will feel like he or she has something exclusive for the group and they will be much more motivated to help you.
The third method of traffic generation is article marketing… with a twist. You will not be submitting your articles to directories. Instead, you will be offering high-quality articles to websites in your niche that have high traffic.
If you can't write well, you can always outsource this task. It will be an expense but you should look at it as an investment. Once you have a few good articles, approach the owners of the sites and offer it to them for free and just ask for a link back to your site at the end of the article.
Do not use affiliate links in your article. Make it look like you're offering value… and the truth is you are. Most websites are looking for fresh, good content. You will be like a Godsend to them. And it's free. Who could resist?
These 3 methods if well-executed, can drive massive amounts of traffic to your site or products. You do not need to know a hundred different methods. You just need to know a few good ones. The three mentioned above are excellent.
"I fear not the man who has practiced 10000 kicks once, but I fear the man who has practiced one kick 10000 times." – Bruce Lee
The Truths About Affiliate Marketing That No One is Telling You About (Part 1)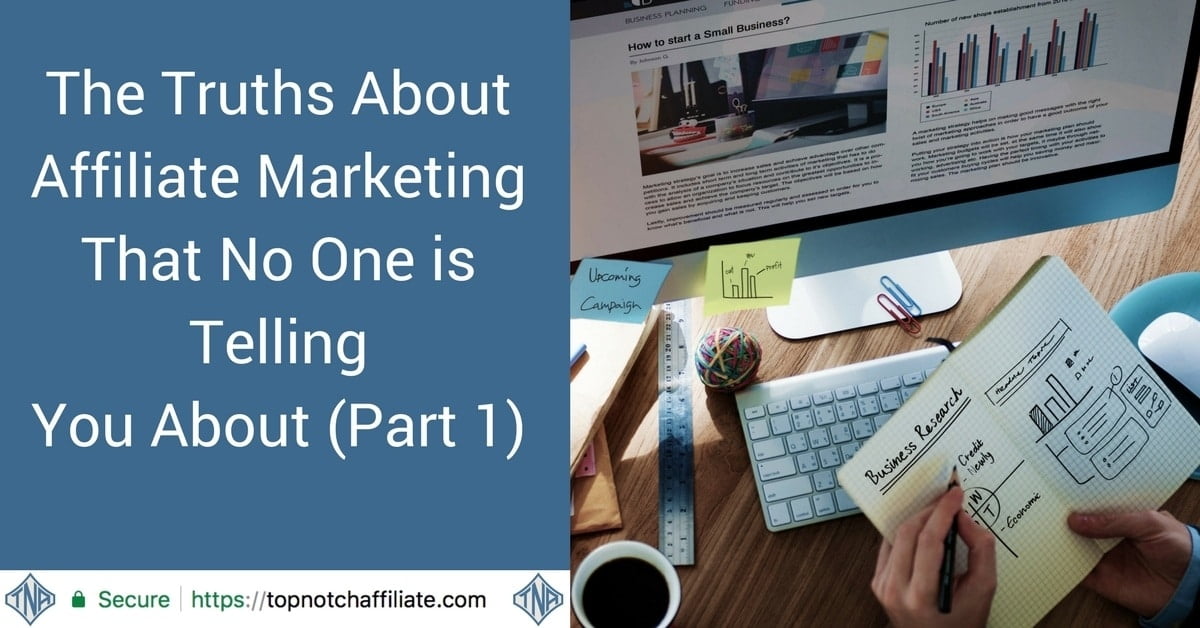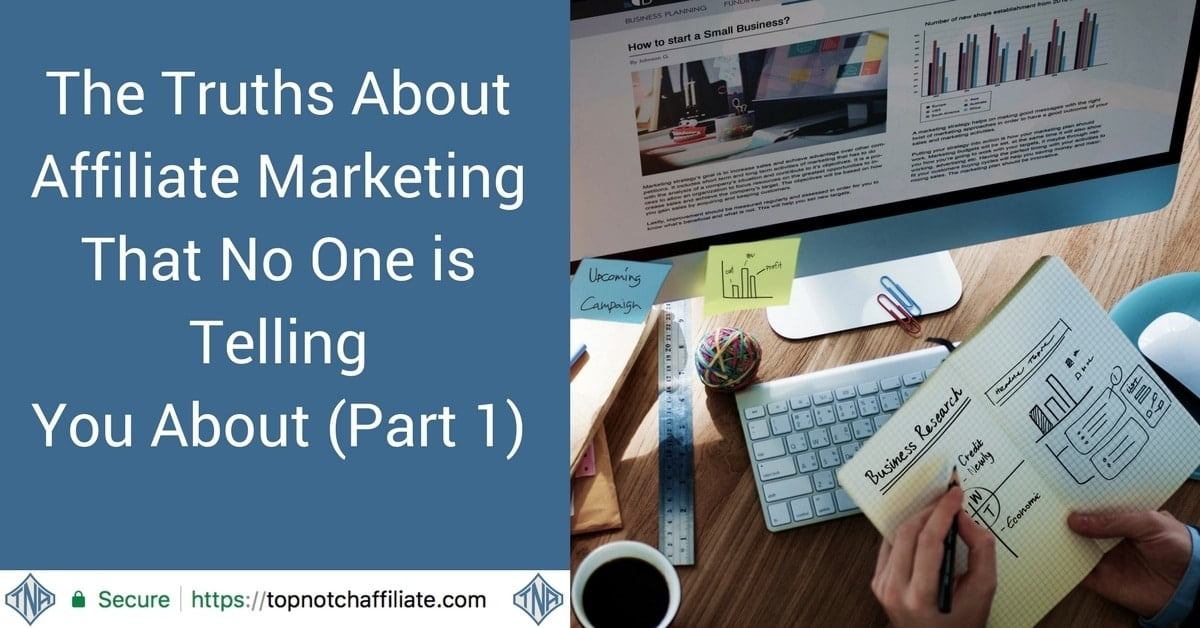 In this 2 part article, you will look at the truth behind affiliate marketing. Forget the pictures of mansions, fast cars, yachts, guys sitting in their pajamas, cocktails, and beaches, etc. We will go behind the façade to look at the real truth about affiliate marketing.
The internet marketing industry is awash with hype and illusions. It is no wonder so many beginners enter the industry with excitement and quit in disappointment.
They leave with a sour taste in their mouth when they realize that instead of making money, they have racked up massive bills on their credit cards buying rubbish products.
This is an inevitable process and most marketers go through it. The smarter ones come to their senses and wake up. They then make changes to their strategy and go on to make money. The majority never learn from their mistakes until they quit… and even then they don't.
Now we shall look at the hard truths about affiliate marketing.
It Is Not Easy And It Will NOT Happen In A Day
You may often see headlines that sound like this, "Former Construction Worker Made $45,231 in 2 Weeks Easily With This Secret Traffic Loophole!"
The beginner marketer immediately gets hooked. Really? Can you really make 45k easily in 2 weeks? Wow! I need to get this.
No, you don't.
If the construction worker really made 45k, he wouldn't be telling you his secret or selling it for $27. He is making money selling you the product.
This is the most important truth of all. It is NOT easy. You will have to learn a lot and take massive action before you start generating any reasonable income online. You will need to learn traffic generation, how to do keyword research, build websites, choose affiliate products and on and on and on.
You can NEVER do that in a few days. You're looking at a few months of hard work… sometimes even a few years before you hit the 5 figure monthly income. Understand that it takes time and effort.
You MUST Sell!
Intertwined with the earlier point is another point that most beginners NEVER pick up on even though it is staring them in the face. This point must be tattooed in your brain so you never forget it.
You will only make money when you sell. This is so simple but so POWERFUL! You will only make money selling stuff. Buying all the make money online systems in the world will not put a penny in your pocket. You only earn when you sell.
This applies to product creators and affiliates alike. You only make a commission when there is a sale. So, stop buying other people's products and use your money to build your business. The money saved can be used to outsource some of your work or you could use it for paid traffic, etc.
Of course, there are certain things that you must spend money on such as a domain name, hosting, autoresponders, keyword research tools, etc. However, these are investments. They will help with your business.
It Always Comes In Trickles
Many beginners who struggle for months finally start seeing an odd sale or two every now and then. On some days they may make two sales… and for another 8 days, they may not make a single sale.
Instead of celebrating these small victories, they feel like their efforts have pathetic results. They are expecting 100 dollar days and 4 figure or 5 figure paydays. The occasional sale or two is paltry to them.
So what do they do? They say it's just not worth the effort and QUIT!
This is one of the biggest mistakes most of them make. They quit just when the tide is about to turn. Most super affiliates started off with the small measly occasional sales. The reason they are super affiliates now is that these small victories motivated them to take more action.
It's a mindset thing. They did more, tweaked their strategies, replicated what was working and discarded what wasn't and slowly but surely fine-tuned their business. The more they did, the more sales start coming in.
Nature abhors a vacuum. Once the commissions start coming in, they will keep coming in. For that to happen, you must not throw in the towel too fast. It's a fight and you must stay in it until the end. That's what winning the affiliate marketing game is all about.
In Part 2, we'll look at more truths that no one is telling you about.
The Truth About Affiliate Marketing That No One is Telling You About (Part 2)

The Learning Process Never Ends
The internet landscape is constantly changing. You absolutely must keep up with the changes, adapt and carry on. You cannot be obstinate and decide to stick to the old ways. You will get left behind and your business will collapse.
It may seem troublesome to keep learning and adapting. That is why you must enjoy doing what you do. If you don't enjoy it, learn to enjoy it. There is no other way.
Once you are earning good money with your affiliate marketing, you will enjoy the process and it will all seem more exciting and fun. In fact, you will probably be trying to come up with new ways to stay ahead of the pack and others will need to adapt to keep up with you. However, to get to this stage, you will need to keep learning.
You Will Fail
This is inevitable. It doesn't matter how experienced you are, you will still make mistakes now and then. If you looked at the movies that hit the big screen, there are movies with huge budgets such as The Lone Ranger or Waterworld which flop spectacularly.
So why would the directors and movie studio honchos still invest money in something that is going to fail? The answer to this is one of the truths that no one tells you… You NEVER really know for sure if something is going to be a hit or a flop.
You never know till you do it. This is true even with affiliate marketing. You may think that a product is going to be a winner because it looks fantastic and the sales page is convincing and the visitor must be mad not to purchase it.
So you start driving free and paid traffic and all your efforts do not convert. You have no idea why. What are you doing wrong? Why are you failing?
The truth is, sometimes you just fail. Sometimes the only thing you learn from failure is that you failed. That's ok.
Dust yourself and move on. Maybe you find an ugly doll that has a face that looks like an onion… and you decide to promote it not expecting it to do that well… but since there is not much competition, you go for it. Suddenly, the doll goes on to become a craze and everybody wants one.
You make a killing in sales and your commissions shoot through the roof. But why? Why did this happen?
Guess what? There is no answer to this either.
Run with the winners and dump the losers. That should be your mantra. You should plan as much as you can and do your best. If things fail, do whatever you can to salvage the situation. If the situation looks doomed, dump the campaign and move on.
It's an affiliate product, not a marriage.
No Man Is An Island
You can achieve quite a bit of success on your own. However, in order to take your commissions to another level, you will need other people. You can't ever hope to achieve as much on your own as you could leveraging other people's time and resources.
That means outsourcing certain tasks. Of course, the freelancer may not meet your high standards but if they are doing a reasonably good job, you should stick with them and guide them. This will free up a lot of your time to pursue other ventures.
Another group of people you will need our fellow marketers. Get to know other marketers on Facebook and make them your friends. Engage in discussions and offer value whenever you can. There are many groups where ideas are exchanged often. One idea mentioned might generate thousands of dollars for you.
You could also create your own products or have joint ventures with other marketers. You will be able to recruit affiliates who could sell your product for you.
You need other people. You can't do it all on your own. Most info products do not mention this… but it is a very pertinent truth.
These 6 truths should have opened your eyes. Now you know exactly what you're getting into. Are you ready? Are you?
Well done. Jump in with your eyes open and may the odds always be in your favor.
What You Need to Look Out For When Choosing an Affiliate Network

It goes without saying that you should join a good, reputable affiliate network. This will give you the ability to source for the best products and services to promote. Some of the top affiliate networks are ClickBank, Commission Junction, Shareasale, Amazon, and Rakuten Linkshare.
Knowing which the top networks are, is helpful if you wish to immediately jump in. However, as you progress, you may find products or services that you would like to promote but these products are using obscure affiliate networks. This is when you will need to assess if the network is good or dodgy.
There are many affiliate networks that skim off commissions from affiliates or change the technology to swipe the affiliate's commissions. To avoid all these from happening, you should choose wisely.
Brand
Does the affiliate network have any branding? How long has it been in business? You might take a chance on a newer network but generally, the longer the company has been in business and the better its reputation, the chances of getting any nasty surprises are less likely.
Punctuality In Payment
This is especially important for affiliates using paid advertising to generate money. They'll need their commissions to keep the business rolling. Avoid companies that are notoriously lazy in making payments on time.
Variety/Number Of Affiliate Programs
The more the merrier. A good affiliate network will have a bigger variety of affiliate programs for you to join or there will be much more products for you to promote.
Customer Service
Good customer service is important, just in case you run into any problems.
Variety Of Niches
Some networks are focused heavily on products and services in one particular niche. If you are not actively engaged in that niche, you will be hard pressed to find products to promote.
As you progress in your affiliate marketing journey, you'll naturally join more networks and find more products and services to promote. This is good but there are a few pitfalls that you must avoid so that you do not lose trust and credibility.
Only promote good quality and reputable products. Do your research, read the reviews and if possible you could ask the product creator for a review copy. This is especially true for digital products.
Make sure the sales pages look good and the product has a high conversion rate. If you drive traffic to a sales page that looks unprofessional or messy, you will not generate too many sales and it won't even be your fault.
Check the refund rate of the product if you can. If it has a high refund rate, the product is probably shabby. Give it a wide berth.
Other than the points mentioned above, you should look at the commission structures, promotional material and also look on forums such as the Warrior Forum to see what type of experience other affiliates had with the network you're planning on choosing.
When starting out with a new network, you should track your conversions and commissions closely to see that everything is above board and transparent. There should be sudden changes in affiliate technology, etc.
If you encounter affiliate networks that seem dodgy, trust your instincts and run.
With time, you will gain experience and be able to spot a winner easily. Don't be afraid to experiment and take calculated chances.
Will Affiliate Marketing Give Me Financial Freedom or Is It a Scam?

Most people dream of financial freedom. The joy of not going to work or having a boss makes them happy just thinking about it. No more long commutes or annoying colleagues. Such happiness…
The internet has given many people the chance to actually live such a lifestyle. It's the internet dream. A cozy and convenient lifestyle that puts you ahead of the pack and separates you from the masses.
Can it really be done?
Of course, it can. If others have done it, so can you.
Yet, why do so few people do it? Why do so few people achieve any success online?
The answer to this is firstly a lack of focus. From the get-go, you must decide on one method that you will be using to make money. If you're a beginner, the best way to do this will be with affiliate marketing.
You will be able to make money from other people's products without any of the product creation headaches or customer service hassles. If you promote digital products from ClickBank, you may get 50% to 75% commissions. Assuming you make $35 a sale and you make 3 sales a day, that's an easy $105.
If you do this daily and get more and more sales, do you think you could achieve financial freedom? Of course, you can.
What if you promoted a coaching course that costs $1000 and you get a 50% commission. 1 sale will net you $500! It is currently being done. There are people spending big money online. You will just need to find them and promote high ticket items to them.
Many affiliates promote low ticket items believing that they will make more sales because these items are cheaper and will sell more. This is true. However, it is much more difficult to sell 50 low priced items than 1 high priced item. The idea of making money from volume is a fallacy.
You're better off expending your energy promoting the higher priced products and earning bigger commissions.
This may seem too good to be true. It may even seem like a scam. The reason for this is that many people are stuck in a mindset where hard work equates with earning money. So, the harder you work, the more you must earn and vice-versa, right?
Wrong. The fact is that hard work just makes you tired. You will need to work smart and work hard at working smart.
Affiliate marketing is conceptually easy. Promote someone else's product and make money. Easy peasy. Yes?
Nope. You'll need to learn and master a fair few concepts, skills and techniques to ensure that you make sales and earn commissions.
You'll need to learn how to set up a blog or website. You'll have to grasp the fundamentals of list building and using an autoresponder. This will mean creating campaigns, adding emails to your sequence, building trust and giving value through email marketing, etc.
Lastly, and most importantly, as an affiliate, you will need to master traffic generation. Without this skill, all the rest will come to naught.
As you can see, there are a ton of things for you to learn, apply and master. It doesn't come overnight so, you'll need to shelve your plans for quitting your job or giving your boss a piece of your mind.
Once you have mastered the skills necessary and you're making money, you'll need to scale up your efforts by outsourcing whatever you can to speed up the journey to the coveted 4 or 5 figure monthly earnings.
Do not let this mountain of skills and techniques required deter you. The world is changing rapidly and being an employee is extremely stressful. Those in the ivory towers and upper echelons of companies are getting massive pay raises while the man on the bottom is left to fend with scraps.
This is neither fair nor pleasant. The only way out of this never-ending cycle will be to master affiliate marketing and make your money online. It is well within reach if you want it bad enough. This is a genuine method of making money. Cast your fears and doubts aside. Just go for it. Once you have done it, you can toss the job and the boss along with it.
Affiliate Marketing Pitfall #1

Affiliate marketing is a wonderful way to generate income online. If you know what you're doing, the sky truly is the limit. Yet, so many marketers struggle to make a cent online. In fact, over 95% of them never see any positive results.
While their lack of action is usually to blame, there are also many affiliates who try their best and still fail miserably. They do everything they can, but the results are paltry. It reaches a point where the juice just isn't worth the squeeze and they quit affiliate marketing.
Here's a truth that you must sear into your mind – people will only buy from you if they trust you. This cardinal truth is the cornerstone of all sales and marketing. People only buy from companies and people that they trust. That's why reputable brand name companies see billions in sales. People trust them.
The same applies to you as an affiliate marketer. The visitor to your site needs to trust you. If you have an email list, the subscriber needs to trust you and your judgment before they spend their hard-earned money.
Very often, affiliates are so desperate to make money that they hype up a product to a point where it's just not believable. Their desperation is subconsciously picked up by the reader and they're put off by it.
In the make money online (MMO) niche, marketers mail for products daily. Some even go so far as to mail several times a day. Nary a thought is given to the quality of the product. Their goal is to sell, sell and sell.
This problem is exacerbated when most of the products in this niche are poor quality and never deliver on their promises. All foam and no beer. Once the subscribers have been bitten once, very often a huge chunk of them become twice shy. They'll be much less likely to buy what you promote.
You've lost all credibility… and the root cause of this is greed. This is the biggest pitfall for so many marketers.
It may sound tough to hear, but this is the harsh truth. The goal to make as much 'easy money' as possible by bombarding your audience with offers is a very short-term strategy. There's even a term for it in this industry – churn and burn.
It is called that because the subscribers on the list get jaded fast and just stop buying. So, the list becomes useless because it stops generating money. The only way to keep getting sales is to keep adding new leads on your list.
A much better strategy will be to selectively promote good offers. You'll need to provide a balance of value and offers. If your approach is only to sell, you'll turn off the subscriber. If you take the slow and steady approach, the lifetime value of your customer will increase considerably.
Your list will have a high retention rate, and when you promote something, people will believe you and buy it. Industry statistics show that it's 7 times more expensive to acquire a new customer than to retain an existing one.
So, be sensible and treat your list like people instead of numbers or cash cows. People join lists or visit sites to get information and value. If you can provide that while promoting products, you will get the sales and win the hearts of your audience.
Three Common Mistakes Many Affiliates Make

This is a 'bad news – good news' type of situation. The bad news is that there are way more than 3 mistakes that affiliates make. The good news is that you'll learn 3 of them here and can avoid making them.
As a marketer who does affiliate marketing, it would be in your best interest to learn all that you can about this method of making money online. The more knowledge you have on the topic, the better. Next, you'll need to test out whatever you learn. Keep the winning strategies and discard those that don't work.
You'll need to find out what works for you. There's no 'one size fits all' formula here. Now let's look at 3 common mistakes that you should avoid when doing affiliate marketing.
Not Watching Your Competition
Knowing what your competition is doing and offering is crucial to success. It doesn't matter if you're in the 'make money online' niche or the health niche. You will need to check out your competitors' sites, etc. If they have an email list, get on it and see what they do.
If they have a niche site, take a look at their blog posts, products they are recommending, their newsletter, their EVERYTHING.
As an affiliate, you will face competition almost all the time. If the niche has no competition, there's probably little or no money to be made in it. So, it's best to steer clear.
Keep a close eye on what the other affiliates are doing and always try to outdo them. Be better, be original and be passionate about your niche.
Thinking This Is A Get-Rich-Quick Method
Every day, thousands of beginners come online hoping to make easy profits. They want the internet marketing lifestyle where they don't have a boss and work their own hours. The freedom they imagine is so sweet that they can almost taste it.
The potential of making good money seems so real that they can almost see themselves in the cars and mansions that are displayed on so many sales pages hawking the latest and greatest ways to make quick and easy cash.
The reality, however, is far more brutal. Making money online requires a lot of effort, know-how and time. Things online change rapidly. You must always be on top of things.
Sipping cocktails by the sun-kissed beaches of the Caribbean is a reality only when you've poured in immense effort into your business. It takes time to build a passive online business… and even then, you still have to keep an eye on things.
If you're expecting easy profits with affiliate marketing, you'll be sorely disappointed. Expect to work at it for 3 to 6 months before you see money coming in regularly. It may take a year or two before you earn enough to ditch your day job and tell your boss to shove it.
The question is – do you have what it takes to last that long?
No Strategy
Planning your affiliate marketing is crucial. You need to know what products you'll promote, what traffic generation method you'll focus on, who your target audience is and so much more.
Like Steven Keague said, "Proper planning and preparation prevents poor performance."
Create a plan. Stick to it. Adapt where necessary and promote well. Don't go in blind.
Avoid these 3 common mistakes and your affiliate marketing journey will be smoother and much more rewarding.
Are Direct Links to Affiliate Products a Good Idea?

If you don't have time to read the entire article – the answer is no. Really. This is a HUGE mistake that so many affiliates make.
In most cases, having direct links that go straight to the sales page is never a good idea. The exception is when you have anchor text on your site that goes to the products directly.
For example, let's assume you're writing a woodworking article about building your own chicken coop. You might mention how having a circular saw is extremely helpful. The words 'circular saw' can be linked to a circular saw being sold on Amazon.
In this case, it's fine because Amazon is a selling machine and does a great job of converting visitors into buyers. Over and above that, you should already have an option box on your site to get readers on your list. So, direct links are fine.
However, if you're using paid ads or driving free traffic from Facebook fan pages, YouTube, etc. it's best to direct all traffic to a squeeze page, which is also known as a landing page or an options page.
Many names but it's basically the same thing – a way to capture leads and get them on your list. Many beginner marketers aren't too sure about how to create option pages and integrate them with their autoresponders.
With page builders such as Optimize Press, Converter, ClickFunnels, and Leadpages, building an options page has never been easier. Most of these already have templates that you can use out of the box with a few little edits. So, use them.
If you direct your traffic straight to the offer you will lose the visitor and probably never see them again. You might not even make a sale because the visitor has not been 'warmed up' and is just passing by. This is especially true when sending your visitors to a sales page that's not Amazon.
By getting them on your list, you'll be able to make contact several more times and place the offer before them a few more times and they may buy it. Studies have shown that it takes roughly seven exposures to an offer before someone buys it. By building a list, you can get those repeated exposures.
This brings us to another question – "Should we cloak our affiliate links?"
The answer is yes. One of the best ways to do this is to use a WordPress plugin called Pretty Link (if you're using WordPress) … and you can use it to make your links 'no follow' so that you're not passing on link juice to the offer site.
However, it's best to avoid using them with Amazon affiliate links because your account may get banned. There have been reports of people getting banned from the Amazon Associates Program just because they used cloaked links. So, it's best to err on the side of caution.
With every other site, you should cloak your links. In this way, instead of manually changing every affiliate link on your site should you wish to promote another product, you can just change the cloaked link in one place and all links will be updated.
To conclude, always direct your links to a landing page and cloak them. Your list is an asset. So, build it and you'll be building your business… and then you can promote other products successfully.
Are You Promoting the Right Products?

Many affiliate marketers who try and build lists often find out that no matter what they do, their list is not buying what they're recommending. They've tried building a relationship with the subscribers, they've tried bribing them, cajoling them and almost begging them and yet, sales are minimal or there are none.
In this article, we'll look at a few quick tips as to why you may not make sales despite your best efforts. The whole affiliate marketing concept has many 'gears' and if even one out is out of alignment, there will be friction in your marketing and the entire machinery will grind to a screeching halt.
Let's look at one of the most common mistakes – you're NOT promoting the right products. Period.
Promoting Low-Quality Products
This is the biggest mistake of the lot. Most beginner affiliate marketers are so eager to make sales that they'll promote anything and everything under the sun hoping to make a few easy commissions.
Here's the truth – if you say that everything is good, then nothing is good. Your subscribers and visitors are smarter than that. They can smell hype a mile away.
Never put the dollar ahead of the customer. That will inevitably lead to you losing credibility and your subscribers will not trust you. Once they lose trust, you can forget about them buying what you recommend.
The same applies to the products that you mention on your websites. If you promote products that are sub-standard just because the affiliate payouts are high, you'll probably end up with disgruntled customers emailing you or leaving negative comments on your blog.
Once again, you've burnt bridges and this buyer will never trust you again.
Unrelated Offers
If you have a website on weight loss, mentioning products such as power tools or having banner advertisements for survey programs will not cut it. Of course, you'll get the occasional sale or two from the curious visitor, but that will never compare to mentioning a closely related product to your content.
Having a banner ad for an eBook that promises six pack abs, or a popular juicer that's sold on Amazon will translate into many more sales from the health-conscious crowd that's on your site.
If you're building a list from your site (and you should be), the same thing applies. Only promote related offers to your niche… or find a way to angle or slant the offer to make it relevant to them.
If we used the earlier example, a series of audios on positive thinking may not really seem related to weight loss. However, if you mention how affirmations and positive thinking tips in these audios will help people stay focused and succeed in their weight loss journey, you'll probably get sales from readers who need that motivation to keep going.
Offers That Don't Convert
Some offers just don't sell. Either the sales copy is weak, or the product just doesn't resonate with your audience. Track your offers and if they don't convert after a month or two, ditch them.
Never be overly attached to the products you're promoting. This is a business and not a marriage. Only promote products that sell well for you.
To wrap things up, adhere to the 3 tips above and you'll increase your sales and commissions. It isn't rocket science. Just put the customer before the money and put the right offer in front of the right customer – and you'll be golden.
Are You Making This Affiliate Marketing Mistake?

This is one of the MOST common mistakes that affiliates make, and it costs them thousands of dollars. This is especially true in the make money online (MMO) niche where several products are released daily, and everyone is only concerned about the current and upcoming products.
But what about products that did well for you before?
Very often, when one promotes several products, they'll notice that some do much better than others. One of the best things that you can do is to take note of the products that have performed well for you.
It means a few things. Firstly, the product converts well. Secondly, it's in tune with your list. Your list will always prefer some products over others. Thirdly, if it made money for you once, it will probably make you money again.
All too often, marketers promote one product and even if it does well for them, these wonderful products end up being forgotten like spurned lovers. It's really a pity because by re-promoting these products at intervals, you will make money many times over.
If you've created reviews, videos, etc. in your promotion efforts, these can be used over and over to promote the same product. You'll be leveraging past efforts and this is what passive income is all about.
Of course, you'll need to ensure that the product is 'evergreen' in nature. For example, if you're promoting a copywriting or an article writing course, you know that the concepts will be the same for a long time.
Copywriting techniques do not change much, and as for article writing, the course will still be relevant after years. This is what is known as 'evergreen' products.
While you'll not be able to re-promote search engine optimization courses or WordPress plugins due to things online changing so rapidly, the evergreen courses will always stand the test of time.
So, you may wish to add a few emails in your autoresponder sequence to go out maybe once every two months to promote these evergreen products. As long as you keep building your list, there'll always be people who are new to it and will not have seen the earlier products that you promoted. In many cases, you'll get sales from them.
Sometimes, after launch is over, the price of a product may rise. For example, the copywriting course may rise in price from $27 to $97. At times like these, you may contact the vendor and ask for a special coupon code that you could use for your list to drop the current price back down to launch price.
By being able to offer your list a lower price that they could never get elsewhere, they'd be much happier to purchase through you. It will seem like an absolute deal… and it is.
So, the crux of this entire article is that you should promote what worked well for you. While you should promote new products that hit the market, you shouldn't forget products that are of high-quality and converted well before.
Every product is new to the customer who is seeing it for the first time. So, bear that in mind and breathe new life into existing products.
Discover Why Every Affiliate Needs to Follow Up

The American author, Robert Collier once said, "Constant repetition carries conviction." In affiliate marketing, repeatedly placing your offer in front of your subscribers/visitors will achieve 2 goals.
Firstly, it will increase your sales because visitors will become more familiar with the offer and let their guard down. They'll be more receptive to your pre-selling and much more likely to buy what you're purchasing.
Secondly, it shows that you truly believe in the product. If you're doing it right, your enthusiasm and belief in the product will help to sell it better. The goal is to show how helpful and useful the product is without being over the top.
Now that we've established that that, the question now is – how does one follow up? Since you can't show up at your subscriber's doorstep, the only way you can do it is by emailing them.
If you have their contact number, you could reach out to them with a phone call. It all depends on what you're marketing. Millions in sales are closed over the phone. So, it does work.
However, email marketing is still one of the best ways to reach out to potential customers. When promoting a brand-new product or a popular existing one, you must have a follow-up strategy.
How often will you email them? What other information could you give them to help them decide to make the purchase? Do you have positive reviews from satisfied customers to share?
All these will help to persuade the reader to whip out their credit card and purchase what you're promoting. That's how you do it.
Many beginner marketers make a mistake here. They email their subscribers a couple of times and never go the extra mile. Follow-up is not just about emailing repeatedly and incessantly.
That's no different than spamming with permission. To follow up effectively, you need to educate your prospects on the offer. Mention the features of the product and dress them up in benefits.
You may need to write a review on your blog or make a video to show what the product is all about. That's going over and above what most other affiliates will do.
While doing this, you should build a relationship with your readers. Ask them to contact you if they have any questions. The key to closing the sale is to nullify all mental objections and doubts the reader may be having. These are the obstacles blocking them from buying the product.
Other than that, will you help the buyer out if they have problems using the product? How are you different from all the other affiliates promoting the same item? What's the long-term value that you're providing that the rest aren't?
All these pertinent questions will help you stand head and shoulders over the rest of the affiliates… and it's all a part of your promotional plan. Your strategy should be to incorporate all the points mentioned above in your follow-up strategy.
By doing so, you'll always be at the top of your subscribers'/visitors'/prospects' mind and you'll be the first person they think of should they decide to make the purchase. The fortune is in the follow-up.
Is Launch Jacking Worth Your Time?

If you've been in the make money online (MMO) niche for any length of time, you'd have heard of launch jacking. There are a ton of products on this topic and though it has been around for years, dodgy marketers still keep rehashing this concept and creating new products making it look like it's the next best thing since Squidoo… and we all know how that turned out.
Launch jacking basically involves ranking videos on video sharing sites such as YouTube, etc. It's a type of search engine optimization that siphons off traffic from these sites and just may convert potential visitors into buyers.
Hundreds of affiliates try out launch jacking and you're probably wondering if it works. The answer is – yes, it does.
For example, let's assume a product called '6 Minute Unicorn Profits' is about to be released in a week. If you follow the launch jacking strategy, you'll make a video with a title like, '6 Minute Unicorn Profits Review + Huge CUSTOM Bonus" … and you'll build some backlinks to the video and optimize it so that it ranks.
Since the product is very new, competition for the keyword will be low and you'll probably show up on the first page of the Google search results when people search for a review of this product. This often happens when a product is first released and there's a lot of hype and frenzy over it.
By finding your videos and clicking on your affiliate links, the visitors just may buy the product through your link and you'll get a commission. That's how it works. But is it sustainable? Herein lies the problem.
Most online marketing products that are hyped up often burst on to the scene with flash and pizzazz that last for a few days or maybe a week at most. Once the hype dies down, hardly anybody searches for these products after that.
So, building a passive business in the long run with launch jacking isn't entirely possible since you'll need to keep making videos for new products. This is not a 'set and forgets' type of business model.
However, if you're building a list from your videos by directing the traffic to a landing page, you could turn those 'short-term videos' into a long-term business. You might sacrifice a few impulse sales, but in the long run, you'll have a list of people that you can keep marketing to.
Some affiliate marketing platforms such as JVZoo allow affiliates to add buyers to their list, once the visitor purchases the product through the affiliate link. From there you can offer bonuses and build a relationship with the buyer.
To conclude, while launch jacking does work to some degree, you may wish to complement it with other marketing methods such as product creation, niche sites, etc. Success in this industry requires long-term thinking.
Don't step over dollars to pick up pennies. The launch jacking commissions can be attractive and be motivating to many beginners, but that is just the beginning.
Many beginners get stuck here and never venture further. The wise ones though, use it as a stepping stone to reach higher levels in their marketing journey. Be wise.
Traffic – Do You Have Any?

If you've been marketing for any length of time, you'd probably have heard or read the saying, "Traffic is the lifeblood of your business."
That's very true, but here's what most beginner marketers do not know – traffic is easy. It's conversions that are difficult. You can always drive traffic by spending some money but getting that traffic to convert to sales is where the challenge lies.
While improving conversions is beyond the scope of this article, we're going to look at why one of the biggest mistakes affiliates make is not proactively driving traffic to their web properties or affiliate links.
There are a few points to note about traffic, but the most important one to bear in mind is that you will need to direct and drive it to your sites. Building a site and waiting for traffic to arrive is just not going to cut it. You MUST direct the flow of traffic to your sites.
Don't Try To Create Your Own
Here's something so many marketers fail to realize – the fastest way to get traffic will be to 'siphon' it from sites that have tons of it. We all know that millions of people are on Facebook. It only makes sense to go on Facebook and use fan pages, Facebook groups or Facebook ads to target people interested in your niche.
From Facebook, now you'll have a stream of traffic going to your site. The same applies to YouTube, Pinterest, Instagram, etc. These hotbeds of traffic will trickle down your way if you do the needful.
You Always Pay For It
There's no such thing as free traffic. You either pay for it with money or with your time and effort. Video marketing is free, but you'll need to spend time making the videos, optimizing them and doing all that you need to for them to rank and get traffic to your site.
The same applies to other 'free' methods. It's best to use them if you're starting out and on a tight budget. If you can afford paid ads and you have a good understanding of how they work, you'll get faster results with paid traffic – but just know that no matter what, you will pay.
Focus On One First
When driving traffic, focus on one source at a time. If you're using YouTube, get good at it until you have thousands of subscribers and traffic from there before moving on to another traffic source.
Many beginners run from one source to another like headless chickens. Their efforts are scattered and yield no results because they've not gone deep. Go deep and focus on one traffic source until it works for you. Then scale up and move on to the next one.
Capture As Much Of It As You Can
Drive all traffic to a landing page. Offer a free trial or a lead magnet so that you capture leads. This will not only build your list, but you'll be able to presell the visitors and improve conversions.
Engage
Engage with your list. They'll be made up of cold traffic. So, you need to warm them up. The more you engage and build a relationship with them, the better your marketing efforts will be.
Keep At It
Finally, driving traffic is a never-ending task. While you can automate it or hire someone to help you out, just know that it must be ongoing.
On a final note, do bear in mind that without traffic you will not have a business. It's not difficult to drive traffic, but it does require effort and know-how. So, educate yourself on it and get started today. Within a month or two, you'll start seeing results that will snowball over time. That's how you do it.
Will Creating Your Own Products Make You a Better Affiliate?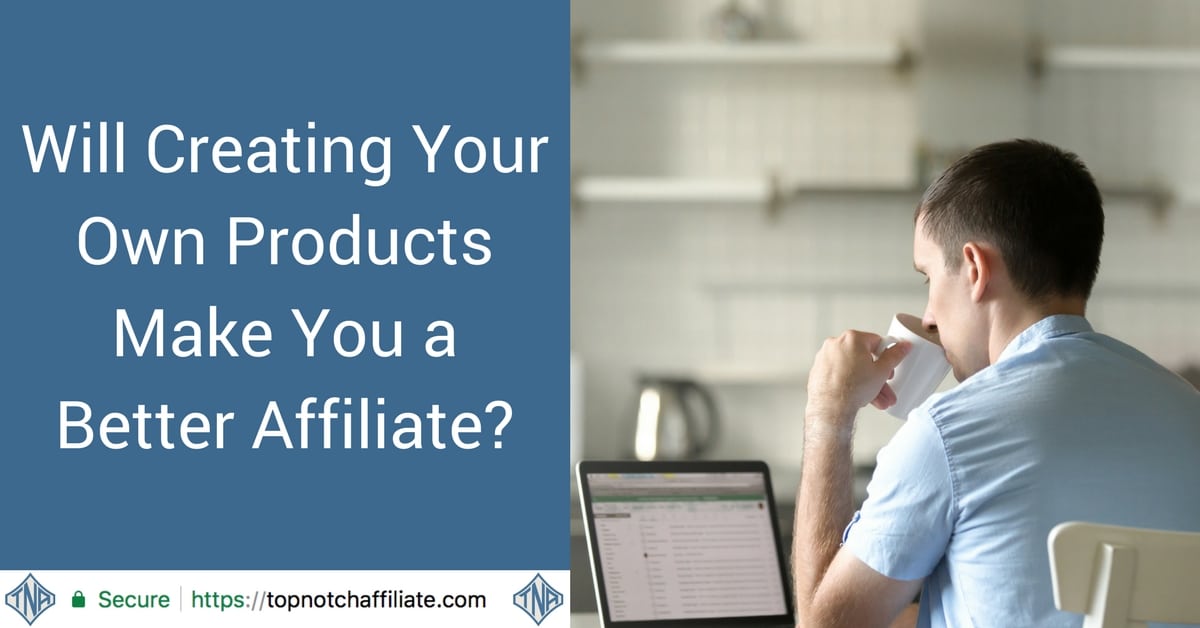 This is one of those 'insider secrets' that many of the top affiliates do not reveal. The fastest way to become a better affiliate will be to start creating your own products. It may seem like a Catch-22 situation.
You got into affiliate marketing to avoid product creation… and yet, to really do well as an affiliate, you should create your own products. That said, there are thousands of affiliates who make 5 to 6 figures a month solely from affiliate promotions alone. They may not have their own products. Generally, such powerful affiliates are rare.
By creating your own products, not only will you make money from sales, but you'll also build a list of buyers. This is imperative to succeeding in this business. It's very easy to build a list of freebie seekers and tire kickers who will just clog up your list and increase your autoresponder fees – but it's the buyers that you need to focus on.
The best way to have a buyer list is to sell your own products. This will also give you some credibility and authority in your niche. It doesn't matter if you're promoting digital or tangible products. You can always create a digital product such as a report, planner or even training course to complement what you're promoting.
If you're promoting bodybuilding supplements, creating a bodybuilding guide and selling it could earn you quite a hefty sum too. The book may have affiliate links to supplements that you recommend. From there you'll get more affiliate sales.
If you have a gardening site that promotes gardening equipment, a guide that shows how to create compost might sell hundreds or even thousands of copies. All these buyers will go on your list. You may then promote guides that show how to grow roses or other flowers faster and better.
Your list has already shown an interest in an info product. It only makes sense to recommend them a few more. Buyers who are passionate about their interest will lap up every product that catches their interest. This is a hungry crowd… and having your own product will help you tap into this group better as an affiliate.
To make things better, guess what you can do with your product?
You can allow other affiliates to sell it. Now you'll have others promoting your product too. In fact, several of the other affiliates may have their own products that they're selling. You will be able to network with them and promote their products too. Now you have contacts and can form mutually beneficial partnerships to boost your sales.
Having products of your own gives you immense leverage and opens up opportunities for you that you wouldn't normally have. Do not make the mistake that so many affiliates make – fearing product creation.
Even if it takes you 3 months to create your own product, that will be time well-spent. The efforts you sow in product creation will yield profits many times over in future. Always play the long game and your affiliate commissions will soar. You'll never look back after that.
Bonuses and Bribes – Are They Necessary?

This is a question debated ad nauseum especially in the 'make money online' (MMO) niche. A common practice by many affiliates is to stack 20 to even 50 or more 'free bonuses' for buyers who buy through the affiliate's link.
Very often, the products are digital in nature and taken off one of the many private label rights (PLR) membership sites out there. The bonuses are then given an inflated value such as '$20,000 real-world value'… yet, you can't buy a bag of chips with these 'expensive' bonuses.
There's an old saying that goes, "If you follow the herd, you'll end up stepping in shit."
This is one area where that maxim holds true. While offering bonuses can be a way to tempt the subscriber to buy through your affiliate link, the bonus needs to be unique, relevant and not hyped up.
How many bonuses are too many? What is the buyer going to do with 40 bonus products?
Very often, the top affiliates have maybe 2 or 3 very relevant and worthy bonuses that buyers wish to get their hands on. If you have your own product that's not offered for free on over a hundred PLR sites, the buyer will know that it's of value. This is especially applicable if you're selling the product and people are paying for it.
For example, if you're selling a WordPress plugin that you created and is popular, offering that as a bonus to another vendor's software offer will see much higher conversions for you. Offering 40 eBooks that you yanked out of a PLR site and which date back to 1999 is not going to help your cause.
So, it's best to exercise common sense in your marketing. This brings us to the next question – where does it all end?
There are some marketers who insist on not offering bonuses and instead rely on the goodwill and loyalty that they've built with their list to help get the sales. This does work too… but one needs to be pragmatic. Many marketers make a mistake here and fail to observe the pool they're swimming in.
You must look at the market you're in. If you're promoting a product that's just been launched and every other affiliate is offering bonuses, greed very often is going to win the day. Your subscribers will be tempted by the other affiliates' bonuses and may be lured to buy from them instead of you.
That's just the way it is. In the MMO scene, buyers are on several lists. When a product is just launched, there is often a frenzy over it and everybody and their grandma will mail for it.
Now subscribers are exposed to many offers and bribes to get the product through the different affiliates. It's a buyer market, they're spoiled for choice… and they're going to be bonus shopping.
If you do not have a bonus, you'll probably lose out. Even if you do make sales, you may be leaving quite a bit of money on the table.
At the end of the day, it all depends on your niche and what your market and competitors are doing. Sometimes offering a bonus or bribe just may help to convert a hesitant visitor who is sitting on the fence into a buyer. You just need the right bonus at the right place at the right time. No pressure.
Four Traffic Generation Tips for Affiliate Marketers
As an affiliate marketer, it's crucial that you know how to drive traffic to your offers. This is a skill that will make or break you. So, you'll to need to devote a huge chunk of your time, in the beginning, to learn how to drive traffic. While simple in concept, it's not entirely easy and will require effort on your part.
Unlike product creators who can rely on affiliates to drive traffic, as an affiliate, you can only count on yourself. The traffic you generate can either be of free methods or paid traffic. If you have the budget for it, you can use paid traffic. It's faster and you get feedback much quicker. If youíre a beginner and short on funds, there are many free methods of traffic generation that are effective too.
The term free is deceptive because you'll be paying for it in time and effort. Nevertheless, you can drive free traffic and still make sales if you know what to do. Below you'll find a few tips that you should always bear in mind when driving traffic.
Know Where Your Audience Hangs Out
You must know where your niche audience hangs out. If it's a bodybuilding crowd you're targeting, theyíll probably be on bodybuilding forums, fan pages for bodybuilders, YouTube channels featuring fitness experts and so on. So, you can go into these places and start siphoning traffic from there to your sites.
Choose One Method
The reason so many marketers never do well with traffic is that they never focus their efforts on one method. If youíre going with video marketing, create a good channel and keep making videos till you have a following. Learn how to optimize your channel and videos so that you rank.
If you're using Facebook groups, learn how to get more members in your group and post stuff that they like, and which can be linked to your web properties.
Pick one traffic method and strive to master it till you have an avalanche of traffic coming to your sites, etc. Once that's successful, you can move on to the next traffic method while maintaining the current one.
Repeated And Relentless Effort
Driving traffic is a continuous process. Keep repeating your efforts and never give up. Even if your first few videos have only 10 or 20 views, keep going. Over time you will get more views and a bigger audience. It takes time for things to snowball.
The same applies to most traffic methods. The more videos you have, the more traffic you'll get. The more people in your Facebook group, the more comments, and engagement you'll get. The more paid ads you create, the higher your chances of finding winning campaigns. It's all a matter of time and repeated effort.
Engagement
This is another important factor. Engage with your traffic. Reply to comments on your videos. Like and respond to comments on your Facebook groups and ads. The more you engage, the better your relationship with your audience will be. Theyíll grows to like you, trust you and will eventually buy through you.
Remember these pointers when driving traffic. It's not as difficult as most marketers make it out to be. Once you understand how it works and youíre consistent, you will see results. The key to traffic generation is consistency. That's where most marketers fail.
Get this right and you'll have all the traffic you want.
Seven Steps to Optimize Your Affiliate Marketing
To succeed in affiliate marketing, you'll need all the gears in your affiliate marketing 'machine' to be perfectly aligned so that the machine runs smoothly and generates sales like clockwork.
In order to reach this stage, there are a few factors that you must be aware of and make sure that they're all optimized so that your marketing efforts yield the best results. Getting them wrong can end in frustration and a loss of time, energy and money.
Let's look at the 7 steps below.
Formulate A Plan
If you fail to plan, you're planning to fail. Before even getting started on the content creation or buying a domain, you'll need to assess if your niche is worth targeting. Is it overly competitive? Are there enough products to promote? Will you be targeting long tail keywords?
You need to know your plan of attack and exactly what you're going to do. That is your first step.
Research And Reach
The second step is research and reach. You must do a lot of research before diving into the niche. It's fine to even spend a week or two doing thorough research. You'll get a feel for the niche and know just how far your reach will be. Better to be well prepared than to get started and be unprepared.
If the niche you are in has a very small audience, your earning capacity will be limited. While you can still give it a try, it's inevitable that you reach an income ceiling that you can't seem to break through. So, be aware of this.
Traffic
Traffic is of paramount importance. The more targeted traffic you have, the more sales you'll make. So, you need to know where you'll be driving traffic from and what you're going to do. Focus a huge chunk of your efforts on getting the right traffic to your web properties.
Content Creation And Marketing
No matter what affiliate product you're promoting, there will be some type of content creation involved. You could be writing blog posts or creating infographics or just pinning images on Pinterest – whatever the case, it is content creation and marketing.
People come online looking for information. They're looking for content. The better and more engaging it is, the more visitors you'll attract and retain. Your goal should always be to help the visitor out. Avoid appearing like a rapacious marketer who only hard sells and hypes products up. It'll just turn off most people and cost you sales.
Promoting
When you're online, you must promote your content. Actively post your images in image sharing sites, share your videos in as many places as you can, get in front of as many crowds as you can, etc.
There are people on Pinterest who love gardening. There are also people in Facebook groups who love gardening. Let's not forget all those people who subscribe to gardening channels on YouTube… because they love gardening.
Guess what? Most of them are not on all 3 sites. The audiences will be different. So, by promoting your content on different platforms, you'll reach more people.
Analyzing
Analyze your traffic stats, clicks, sales, conversions, etc. Even if numbers scare you, after a while, you'll get a hang of things. Once you understand the numbers, you'll know how to scale your efforts and improve upon the winning strategies while ditching the poorer performing ones.
Rinsing And Repeating
Last but not least, find out what's working and keep repeating your efforts. Rinse, lather and repeat. Consistency is everything and your repeated efforts multiplied over time will result in avalanches of sales.
Follow the 7 steps above and you'll be an affiliate marketer par excellence.
Affiliate Marketing 101: Knowing Your Audience
One of the secrets to successful affiliate marketing is knowing your audience so well that you can instinctively predict what products they'll like and what they'll avoid. To get to this stage, will require some effort and research on your part.
In fact, it's crucial that you do it before you even start marketing to your niche. One reason so many affiliates struggle to convert readers into buyers is that they don't know their audience. Follow the pointers below and you will be better prepared.
Do You Have A Customer Avatar?
When targeting a niche, who will you be speaking to? If you're targeting the women's weight loss niche, how old will your reader be? Is she a mother or single?  How much time do you think she'll have a day to exercise? Is she a career woman or a stay-at-home mom?
There are so many questions that you need to ask yourself so that you have a clear picture of whom you're targeting. If you're writing for a woman who is in her fifties, she may be a career woman or a housewife. In most cases, she'll not be trying to lose weight after a pregnancy.
Generally, she'll be trying to lose weight with gentler exercise programs like Pilates or Yoga. So, you can leave out hardcore interval training programs and focus more on promoting yoga DVDs, yoga mats, etc.
While some questions will overlap and you don't need to get too specific, you must have a general idea of whom you're speaking to. This will enable you to tailor your message accordingly.
Where Do They Hang Out?
Finding your target audience will be your next task. Just by scanning the forums they hang out in, you'll be able to learn a lot about the niche and where there are gaps that are not being filled by the market.
You can then target these areas with your marketing. Over and above that, knowing where your audience hangs out will be helpful when it comes to traffic generation later on.
What Are Their Problems?
The forums, Facebook groups and other places where your audience congregates will often have questions and problems being mentioned by those in need of help. This is a goldmine of information.
Find out what common problems your market has and address them effectively. You'll get a lot more sales and a very loyal audience.
What Products Will Help Them?
Very often, during your research, you'll see similar products being mentioned that have helped people with their issues, and some other products will not be looked upon favorably. Take notes here and promote popular products and avoid the stinkers.
Are There Any Other Issues That They May Have?
Some niches can be related without you even realizing it. For example, the man who wishes to lose weight and get ripped may also be doing it to attract more women. He'll probably also be interested in guides that show him how to pick up women, etc.
This is actually a very popular industry online with tons of sales. You may wish to experiment and try promoting a pickup artist guide and see how that works for you. If it's well-received, you know that you can start planning to market it more frequently. If it falls flat, you can ditch it and move on.
By following the tips above, you'll become a better affiliate marketer and your content will be devoured by your readers. You'll be the Pied Piper in your niche and your loyal readers will follow you wherever you lead them. Once you get to this stage, you'll be an excellent affiliate marketer.
Affiliate Marketing: How to Be Subtle

There's marketing saying that goes, "People hate being sold to, but they love to buy."
This maxim pretty much hits the nail on the head. Many marketers fail to realize that you say more when you say less. When a blog post hypes up a product or you send an email that praises a product in a way that's over the top, you actually repel potential buyers.
It's obvious that you have a vested interest in getting them to buy the product just so that you earn an affiliate commission. One the reader detects that you have an ulterior motive, they'll feel that you're biased towards the product because you're affiliated with it.
Your motives become suspect and you lose credibility and trust. Once those go, getting the sale can be very difficult. That's exactly why you must be subtle in your marketing.
One of the best ways to do that will be to show how the product helped you and how you benefitted from it. While it may not be possible to do this for all the products you're promoting, you can still be subtle in other ways.
For example, if you have a site showing how to build chicken coops, casually mentioning that 'circular saws are much better than miter saws because they're easy to use' will get you more sales. You just need to hyperlink the words circular saws to the product you're promoting.
Curious visitors will click on the link. After all, everyone wants to make things faster and easier for themselves.
However, if you say, 'you need to buy a circular saw model XXX to do this job effectively. It is the best saw that we found for the job and only costs $YYY', you've probably set off the reader's Spidey senses. They can sense that you're pushing the saw on to them because you were too obvious.
The goal is to use curiosity and strategically placed anchor text to get the clicks. They must feel like it was their choice. That is the key. When the reader is doing things on his or her own volition, they'll not be in a guarded state and will be much more receptive to the sales copy, etc.
As an affiliate, your job is to get the click. The sales page should do the selling. While your content can gently pre-sell the reader, it should mostly be 'benefits-oriented'. You want to sell the solution to the problem and not the product. The best way to do this is by showing how the product solves the most common problems that your audience faces.
You'll not even need to mention where the product is sold or the positive reviews it has. If your content convinces the reader that the product is the solution that they've been looking for – without blatantly telling them, the reader WILL click on the links to see how they can solve their problems.
Everybody is looking for solutions. You're just the middleman who gently guides them down the right path. That's all there is to it. Be subtle.
Discover Why Content Will Make or Break Your Affiliate Marketing
Affiliate marketing and content marketing are joined at the hip. If you want to be a good affiliate marketer, you need to put out good content. There's no other way around that.
Even if you're using paid advertising, you'll be trying to get people on your email list. The emails that you send are content. There may be links to your blogs, reviews, etc.
The crux of the matter is that most people online come looking for either information or entertainment. Only a small percentage are ready to buy. This applies to anything from booking hotel rooms in a foreign country purchasing a gun safe.
Before the purchase, these potential buyers will do their research online. They'll want to know if the hotel they're staying in has all the amenities they need. They'll want to see reviews, etc.
If you have a website that shows up when they search for the hotel reviews, and you mention how the proximity of the hotel to the local watering holes is a plus point.
Show all the different activities they can engage in that's just a stone's throw away from the hotel – the visitor will read the content on your site eagerly because it pertains to them.
In most cases, they'll click on your affiliate links and book the rooms. Now you'd have made an affiliate commission by providing content that the visitor was looking for. That's how it works.
There are 5 pointers to note when creating content. Failure to adhere to the tips below will mean that your content marketing falls flat, and you'll not see much affiliate sales.
Relevant
Your content must be related to the products you're promoting. If you're promoting an outdoor grill, you may wish to have content on what to look out for when purchasing grills.
Or how to clean grills… or even easy grilling techniques to prevent a mess. Whatever the content may be, it must be relevant.
Interesting
Your content must be compelling enough to hook the readers by the eyeballs and keep them reading to the last word. If your content is vapid and dull, the reader will yawn and click off the page. There goes your sale.
Nothing is so wrong that it can't get worse. When visitors leave your site quickly, Google will notice this, and you'll rank poorly in the search engines because your site has a high bounce rate and is deemed not 'user-friendly'… So, have compelling content.
Engaging
Facebook posts on your fan page are content too. So are the videos on your YouTube channel. But here's what makes them so powerful – the engagement in the comments section.
Look at the comments and engage with your audience. The more you get to know them and respond to them, the more they'll like and trust you. Engagement counts too.
New
Your content needs to be new. You'll have to keep publishing content to stay up-to-date. There's no point in having a hotel review on your website that's eight years old when the hotel has already been torn down to make way for a shopping mall.
Always have a content publishing strategy and stay relevant with the times.
Reliable
Whatever content you publish must be reliable too. The term 'fake news' is being tossed about everywhere these days. You want content that is trustworthy.
Readers can sense hype and nonsense. So, make your content useful, and it will help to sell your affiliate products too.
Stick to the five content creation and marketing tips above. Many marketers are so focused on sales, traffic, and conversions that they neglect the content… which can make or break them. Don't make this mistake.
"Content builds relationships. Relationships are built on trust. Trust drives revenue." – Andrew Davis, Author
Effective Affiliate Marketing Strategies You Must Apply

There are a plethora of affiliate marketing strategies and tactics employed by many successful affiliate marketers to ramp up their sales and commissions. While some strategies may seem advanced, they are all usually based on the fundamentals of affiliate marketing.
You need content. You need traffic… and you need to position the right offer in front of the right audience. The goal is to help and also gently guide the reader towards a purchase. As an affiliate marketer, your job is to be a 'conduit' that takes an interested visitor to the sales page which will go on to sell the product.
That's really all there is to it. All other intricacies can be boiled down to this goal. Let's look at a few highly effective strategies employed by thousands of affiliate marketers all over the world.
Niche Sites
This is without a doubt the most popular strategy. To promote a variety of products you need a niche site. The content that's interspersed with your affiliate links will make your sales if you do it right.
You'll need to learn the basics of setting up a site, optimizing it, creating content that converts and a few other things. Once you get a grasp of the fundamentals, the sky is the limit.
As long as you grow your site, your earnings will increase exponentially. Some of the large authority sites make 5 to 6 figures a month in affiliate commissions. That's how powerful this method is.
Facebook Groups/Pinterest Boards
Everyone is on social media these days. Having Facebook groups and Pinterest boards dedicated to your niche will allow you to tap into existing hotbeds of traffic while targeting an audience that is interested in your niche.
Through the links in your posts and pictures, traffic will trickle to your site and you'll get sales. Some affiliates prefer to direct link the pictures on Pinterest to the affiliate products. That's fine too. What matters is that you hang out where your audience hangs out.
YouTube Channels
If you're shy to be on camera, you can still do unboxing videos or PowerPoint presentations with a voiceover. YouTube is an excellent source of free traffic. You just need to invest your time in creating interesting videos that are optimized to rank well.
Links in your video descriptions can either go to a landing page or your website. While some affiliates prefer to directly link to the product, it's wiser to try and capture the lead.
Email Lists
As mentioned earlier, always strive to build your list. Have a pop up on your site with a freebie that encourages the visitor to opt in. Have your links in your social media sites pointing to your landing pages.
Do whatever you can to build your list. Once you have a list and you build a relationship with them, you can promote products that will be well-received. A list will be your greatest asset.
Paid Ads
Many marketers stay away from paid advertising because it's almost inevitable that you lose money during the testing phase. However, you should give it a try when your budget allows for it. You're not losing money – you're buying data.
Once you make this mindset shift, you'll be encouraged to keep trying until you find a few winning ad campaigns. A winning campaign can restore your losses within days and yield you an attractive profit. Such is the power of paid advertising.
Give these 5 strategies a try and watch your affiliate commissions soar. They will take you some time to do, but if you're consistent and stick to the plan, your future self will thank you for it. These strategies will work wonders for your affiliate marketing.
Niche Marketing Tips for Affiliates

Every marketer worth his or her salt knows what the most popular niches are – weight loss, pet care, making money online, survival, baby care, etc. are extremely profitable niches with billions of dollars being spent yearly. These astronomical sums are enough to make many affiliates salivate and want to take a bite out of this pie.
Niching Down
While you can make money in these niches, it's imperative that your niche down to a level that you can compete in. For example, weight loss is just too competitive. As an affiliate, you'll struggle to go up against the big boys who have lots of money to spend on building websites, advertising and more.
In some cases, it'll be next to impossible. But what if you targeted women's weight loss? Now the market is smaller but it's still too tough.
What if you niched down further and targeted weight loss for women above 40 who have diabetes? Now, you're talking! This sub-niche will be much more manageable to target, and you'll be able to find long tail keywords that you can optimize your blog posts for.
It'd be easier to rank for the low hanging fruit and your marketing efforts will be much more streamlined. The truth of the matter is that the same products that are marketed to the general weight loss crowd will also work with the audience in the sub-niche.
It all comes down to how you slant your content and show that the products will help the reader. If you can do that, your readers will become buyers.
Questions To Ask
Before even picking a niche, you'll need to plan your attack. Is the competition manageable or is it beyond you? Are there products to promote? Will you be able to find places where you can drive traffic from?
All of these are very important questions that you need to ask yourself before diving into a niche. Jumping in blindly will mean wasting time and effort on a niche that's either unprofitable or too competitive.
You'll also need to search on Google to see what sites show up for the keywords you're targeting. Are there any affiliate sites? If there are, you have as good a chance as them of ranking. How optimized are their sites? Could you do better than them?
What's their traffic like? Are there ads being displayed on their sites? What products are they promoting?
All these questions are market research that you should be doing before you even get started with your niche sites. By getting answers to them, you'll be able to formulate a marketing strategy that will give you your best chance at succeeding in the fastest possible time.
Strategizing For Success
Take notes while doing your research for easy reference. Do not rely on your memory. Try to bulk your tasks. For example, when looking for affiliate products to promote, find as many as you can at one time.
If you're doing keyword research, spend a day or two compiling as many keywords that you could rank for. By batching your tasks, you'll be much more productive in the long run. Once you get started, you'll have everything you need at your fingertips.
Study your niche before you start your affiliate marketing in it. The extra time you spend beforehand will give you a much better picture of how to proceed or if you even should. This is something all experienced affiliates do. Now you know it too. So, do it.
Understanding Affiliate Marketing to Succeed at It

On the surface, affiliate marketing looks like a very simple concept. You find a product for sale and you recommend it to others who might buy it. In return, you get a percentage of the sale as a commission because you're associated with it. It's so simple.
Just like how it is with insurance agents, door to door salesmen and real estate brokers. Affiliate marketing is all about sales and commissions.
But here's something you should know – simple and easy are two different things.
Trust
When you're selling online, in most cases, you do not face to face with the prospect. The human element has been removed from the equation. Visitors to your site can leave with a click of the mouse.
Someone who doesn't like your email can delete it and unsubscribe in seconds. Selling online while highly profitable is a slightly different ballgame.
For starters, people come online looking for information or to be entertained. In other words, they're looking for 'infotainment'… and even if you're in a niche like gardening, golf or woodworking, the same rule applies.
Your content not only needs to help the reader, but it must hold their attention… and guess what? Social media sites, instant notifications, and a short attention span are all waiting to rob you of that sale.
The door to door salesmen never had it this tough. There is much more rejection online. The only difference is that it's not so obvious.
So, always make your content relevant, entertaining and useful. The goal is to get the reader to trust you. Use whatever it takes from infographics to videos to pictures of the product, etc. to remove all mental obstacles from the buyers' minds and show how useful the product can be for solving their problems… and be subtle about it.
Traffic
The next thing you should know is that unlike real-life sales where the prospect comes to your store or you can go knocking on doors prospecting when it comes to online marketing, things are a little different.
Building a website alone doesn't automatically mean that you'll get floods of traffic. You may not get any for years. To sell online, you need to go and GET traffic. It's all about 'getting' and not sitting around waiting.
You'll need to drive traffic on your own by using free or paid methods. So, you must learn a few traffic generation techniques and take action.
Tracking
When running an online business, you must track your results. Does your site have visitors? Do your products convert? Where are most of your traffic coming from?
Are your emails being opened? Which pages on your site see the most traffic? Which ads are performing well and which need to be shut down?
As you can, there are many variables involved and by tracking your results, you'll know where to multiply your efforts and scale up… and where your efforts are yielding no fruit.
You'll also know where you're not performing as well as you should and be able to remedy the problem. You'll never know this if you don't track.
So, remember the 3 T's of affiliate marketing. Trust, traffic, and tracking. If you follow these T's to a T, you'll succeed at affiliate marketing in record time.
What Should You Look for When Choosing Products to Promote?

As an affiliate marketer, when you choose a niche to market in, ideally it should have a wide variety of products to promote. There should be a mix of tangible and digital products to cater to a wide variety of customers within the same niche.
There are several pointers you should bear in mind when choosing products to promote to your niche. Sometimes, things can get tricky and what may be snapped up quickly by some people within the niche may be ignored by others.
So, it's important to put the right product in front of the right person at the right time to get maximum sales. Below you will find a few tips to guide you.
Does It Fit Your Niche?
This is a very important point. You need to know what your audience is looking for. If you're in the golf niche, promoting bodybuilding supplements such as mass gainers might be a flop.
However, an eBook about improving one's shoulder strength may be a hit for people hoping to improve their golf swing.
You must be aware of the needs and problems your audience is facing. A busy mom looking to lose weight will quickly buy a guide that shows how one can shed the fat with 15-minute interval workouts. However, that same guide will not be as eagerly bought by women looking to lose weight with an easier program of yoga.
As you can see, even though the problem is the same, the products that'll interest your audience will be different. So, you must really understand your niche and expect a period of testing.
Vendor
Another factor that you should look at is the vendor. If you're promoting products on Amazon, you don't have to worry too much. Everybody trusts Amazon and they do a great job at selling.
However, if you're promoting a weight loss guide from another site, the credentials of the author will be important. An overweight person selling a weight loss eBook, or a bald guy selling a hair restoration formula will not inspire confidence in anyone. Check the vendor's credibility.
Sales Page
Is the sales copy for the product convincing? This is applicable to both tangible and intangible items. Does the gadget on Amazon come in different colors? Is the description accurate and convincing? Read the sales copy and ask yourself if you'd buy the item. If you would, your site visitor or subscriber might probably buy it too.
Does It Solve A Problem?
Products that solve problems will always sell better than those that are just for satisfying wants. Nobody thinks twice about buying aspirin when they have a splitting headache… but the cool pair of sunglasses that cost $180 may require much more persuasion on your part.
Reviews
Look at the testimonials and customer reviews on the site. Amazon makes this easy by providing ratings and reviews from verified customers. Promote products with a high rating and many positive reviews. The same applies to digital products. You may even wish to ask the vendor to email you a review copy.
Send them a link to your site and mention that you'd like to promote their product, but you wish to review it first. Many vendors will gladly accede to your request. If they don't, just move on and find another product.
Trends
Last but not least, check on Google Trends to see if the product is in demand. Sometimes, products are very popular because of a craze, but then it all suddenly dies down.
Think fidget spinners and Pokemon Go… now you get an idea of how fast crazes can start and end. Stick to promoting evergreen products which are popular but have stable trends.
These are the pointers to look out for when choosing products to promote. Exercise due diligence in your research and only recommend proven and profitable products to your audience. This will ensure that they trust you and your reputation remains intact.
Who are the Three Types of People Involved in Affiliate Marketing?

In your affiliate marketing journey, it's very important to know that you'll encounter 3 different groups of people. Knowing who they are is very important because you need to know how to deal with them.
Each group is different and poses its own type of challenges. By understanding how the different people in the groups behave, you'll be better prepared to handle them and be in their good books.
Let's look at the groups now.
The Publishers
The 'publishers' refer to affiliates just like you. These are the people who create niche sites or run YouTube channels or Facebook groups. Even the affiliates who use paid ads can be considered as publishers.
The goal of most publishers is to put out relevant content or ads that attract people who will click on their links and buy their affiliate products. The publishers are your 'competition' and you must watch them closely.
If you have a niche site on fishing tips, where you promote fishing-related products, the other sites that show up on the first page of the search results are your competition. They could be affiliates or actual brand name companies selling their products.
You'll notice that there can be an overlap here because affiliates can sell their own products too. Let's look at the next group to get a better picture.
The Advertisers
The 'advertisers' refer to the companies who create the products you promote. They recruit affiliates to do the selling and they also advertise on their own to boost their sales.
An affiliate who promotes other vendors' products but also creates his/her own products to sell, now finds himself/herself in the advertiser's group. Similarly, the company that's selling fishing rods and publishes lots of fishing tips and content on its official blog is now a publisher too.
So, the groups can overlap. What's important to know is that while fellow publishers can be your competition, you can also network with them to promote their products if they're vendors too.
So, now your competition has become a mutually beneficial relationship.
At the same time, the vendor whose products you were promoting, might end up ranking for a lot of keywords that you're targeting, because their marketing is on point. So, the vendor you were trying to support, has now become your competition.
Alas, the tangled webs we weave! Generally, companies try not to compete with their affiliates. But if you notice that the one you're supporting is posing competition for you, you'll need to reassess your marketing strategy and see if you wish to still support them.
The Consumers
This group is without a doubt the most important of the three. The consumers are the people who come online looking for information and solutions to their problems. Most of them don't come looking to spend money or buy stuff.
They want help. Your job as an affiliate marketer is to give them enough information to help them a little and whet their appetite for more information that will help them solve their problems faster and easier.
If you have a website on back pain, the content in your site can talk about the different causes of back pain and natural remedies that could help. However, if they wish to bring much-needed relief, you can mention that the special 'Pain Away Pulse Massager' has been shown to help many back-pain sufferers.
Now, not only is the visitor better informed about his condition and has a choice of home remedies that he or she can try, but they have been subtly introduced to a product that brings much needed immediate relief.
What do you think they'll do?
Soak in that Epsom salt home bath which is a home remedy… or get the pulse massager to ease their pain quickly?
Most of them will get the pulse massager. The content you provide is a vehicle that not only helps them become better informed but also transports them through the invisible journey that they need to traverse to go from reader to buyer.
Understand the different people who are involved in this affiliate marketing circle and you will be much wiser in your marketing efforts.